Betty Irene Moore School of Nursing
At the Betty Irene Moore School of Nursing at UC Davis, we envision a future where the paths to health and well-being are open, accessible and equitable.
Here, every health care professional goes beyond traditional expectations. Our students are tomorrow's nurses, physician assistants, family nurse practitioners, researchers, educators and hospital administrators. And in every program of study, they're learning to take the lead, guiding the change that's vitally needed in both our health care systems and the communities they serve.
Beyond campus and clinics, our faculty, staff and students are partnering with community members, working to identify barriers to optimal health and to advance health solutions that can improve the well-being of entire populations.
With your support, we will realize a future where every individual can access exceptional care and health services, whenever they need them. We will unite our interprofessional programs, groundbreaking research and clinical expertise with our long-standing commitment to social justice, to ensure optimal health and well-being for all. And we will bring about lasting change in our communities and our region, in the livelihoods of our students and the many lives they change for the better.
Funds Donated
$53.2M
donated
84% of our goal reached
For more information contact
Catherine C. Adams, PhD, CFRE
Senior Director of Development
ccadams@ucdavis.edu
916.416.7623
Preparing change makers in health care
If we reimagine our health care systems as more effective and more equitable, we must prepare future leaders who will set this vision in motion. Across our state and nation, graduates of the School of Nursing are known as forward-thinking, rigorously prepared leaders, who have the interprofessional experience, the diverse perspectives and the cultural humility to guide lasting change. Our school is dedicated to empowering these students in every aspect of their education—through a culture of inclusive excellence, comprehensive support services, team-based clinical experiences, and active learning opportunities that prepare them to shape the future of the health professions.
With your philanthropic support for scholarships, endowed professorships, research and educational programs, you play a critical role. Your support expands our leadership and amplifies our impact on our students, our communities and our profession.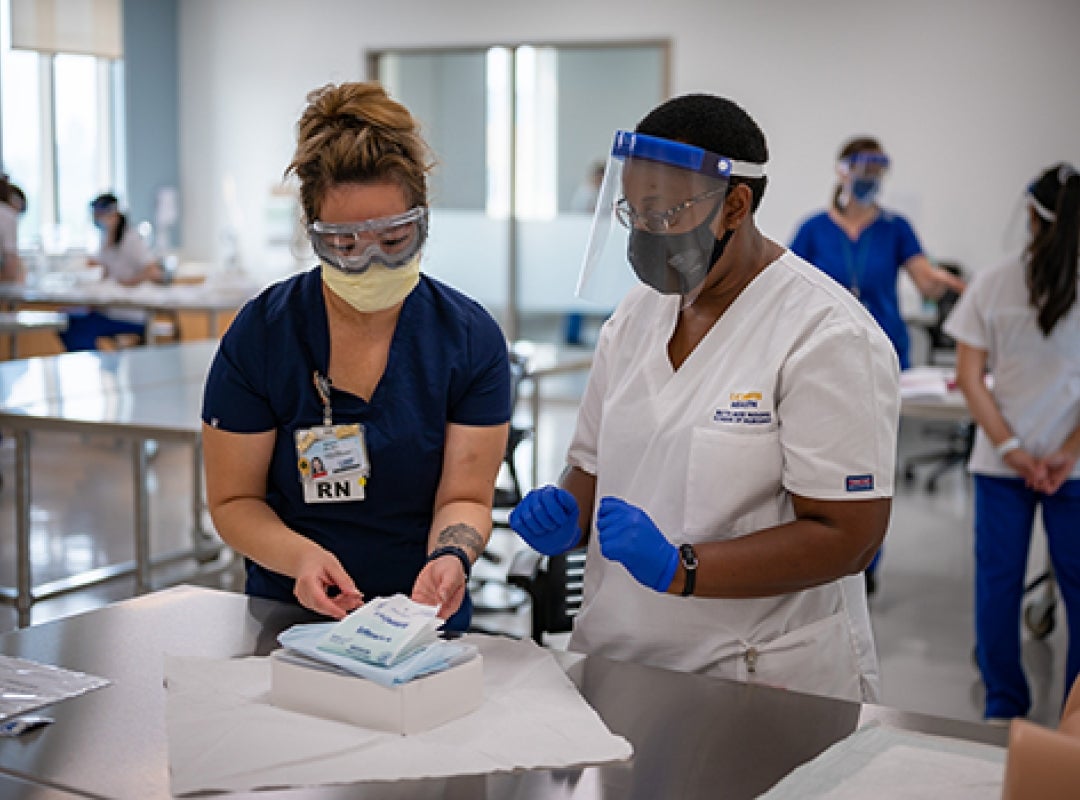 Advancing health solutions to optimize care for all
At the Betty Irene Moore School of Nursing, we are uniquely positioned to empower patients and families, giving them the tools and support networks they need to thrive. Some of our faculty are educating students and practicing clinicians on how to best support family caregivers. Others are using data and machine learning to better track COVID-19 symptoms and predict spread. Still others are partnering with communities to understand their barriers to optimal health, and then partnering to create sustainable solutions that address those needs. Whatever the challenge, our people are continually breaking down barriers to care and expanding the horizons of nursing science.
Your investment in research, innovation and technology will help us advance this important work. Together we can shape equity-focused health policy, fuel innovations that improve the quality of life and inspire tomorrow's leaders to transform how health care is delivered.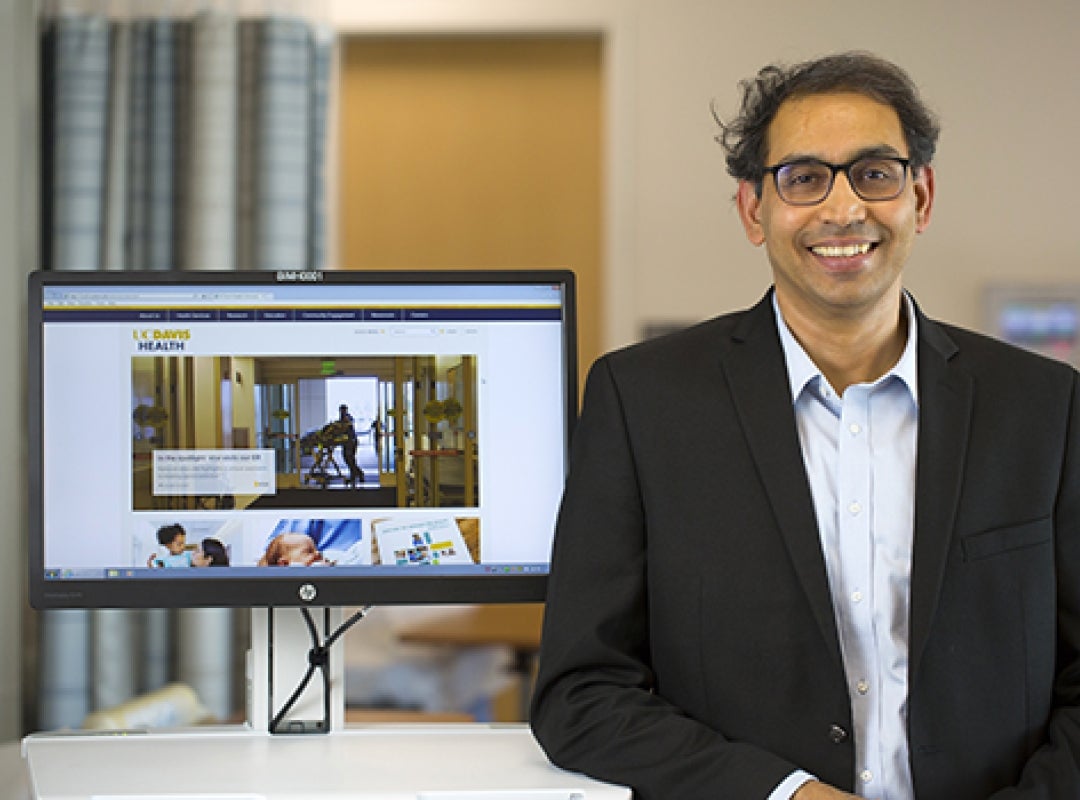 Fostering healthy, equitable communities
Our core commitment is to social justice and health equity, and that's inseparably linked with our research, education and service missions. A vital piece of this puzzle is ensuring diversity in perspectives and voices, and ultimately in the field's clinicians and providers themselves. We're dedicated to this cause. We actively recruit talented, passionate students from underrepresented populations, preparing them to become exceptional professionals who mirror the diverse communities we serve. And through equity-focused research, educational practices that teach culturally inclusive approaches to care, and community partnerships that strive to reduce disparities in the delivery of care, we provide powerful leadership in identifying more equitable pathways to health and wellness for all.
When you make a gift to support need-based scholarships, endowed professorships and community-focused programs, you are part of this work. You can help us widen the pathways of opportunity for the next generation of health care leaders, and expand our reach into the communities who can benefit from our partnership in California and beyond.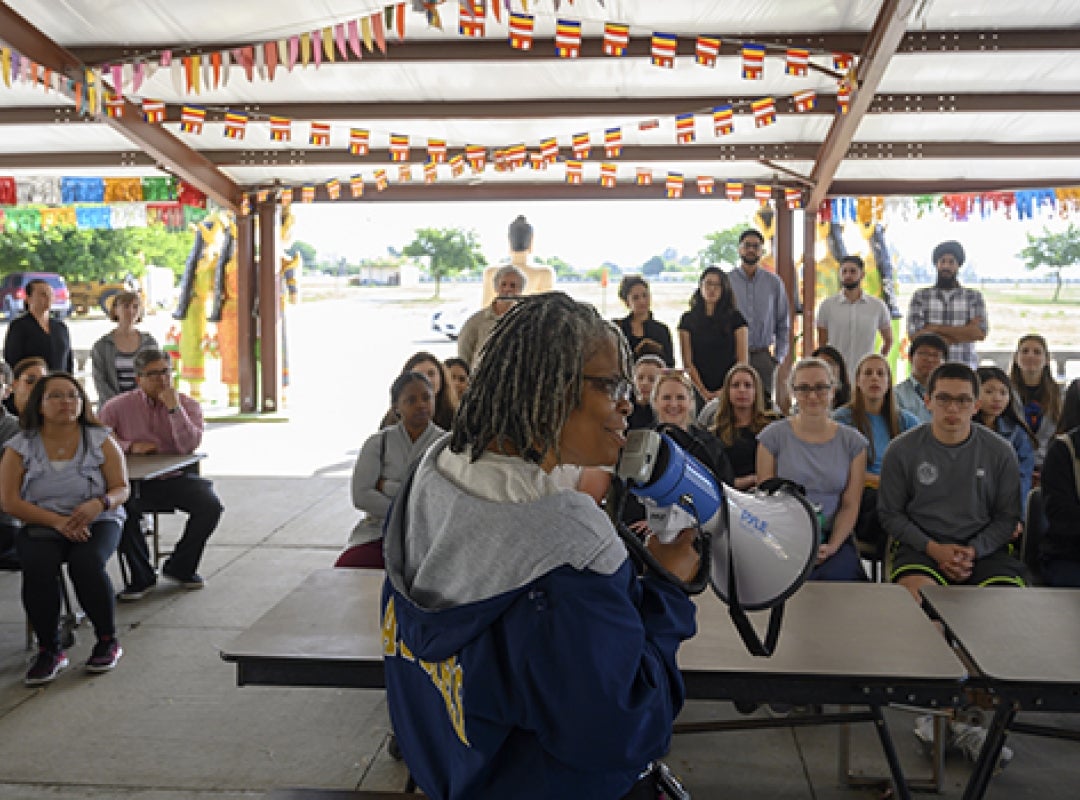 Nurturing patients and the families who care for them
Family caregivers are a central part of the home and community health ecosystem. Through the Family Caregiving Institute, the School of Nursing is working to develop solutions that connect people across hospitals, clinics, homes and communities—to promote healthy lifestyles, to maximize choice and independence, and to support and empower families and their caregivers.
When you make a gift to support this initiative, you become part of our mission to improve the systems of support for caregivers: advancing care for older adults while empowering those who care for them.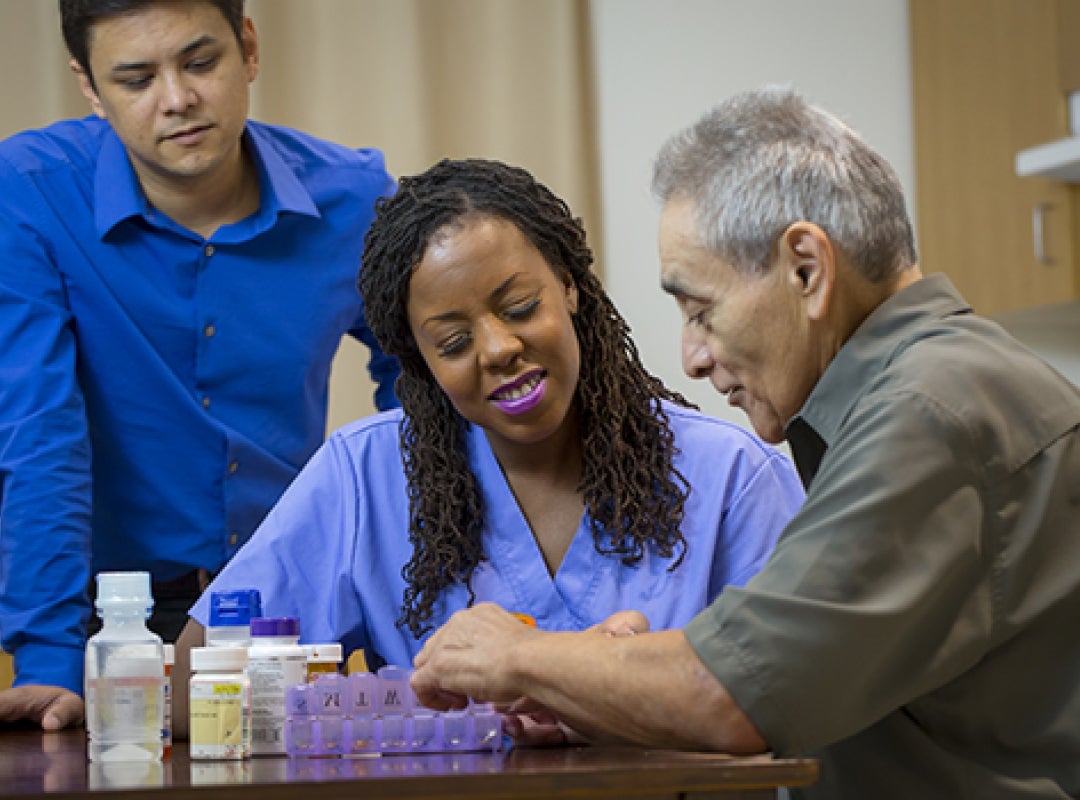 Featured Fund

Betty Irene Moore School of Nursing Dean's Fund
The Betty Irene Moore School of Nursing Dean's Fund allows the School's Dean to be responsive to the most pressing needs throughout the year. Gifts to the Dean's Fund provide flexible support to recruit talented students and outstanding faculty, enhance our innovative curriculum, invest in groundbreaking research, engage the community and respond to new opportunities to advance our mission.
Stay up to date with current news or dive into what's going on at the School of Nursing