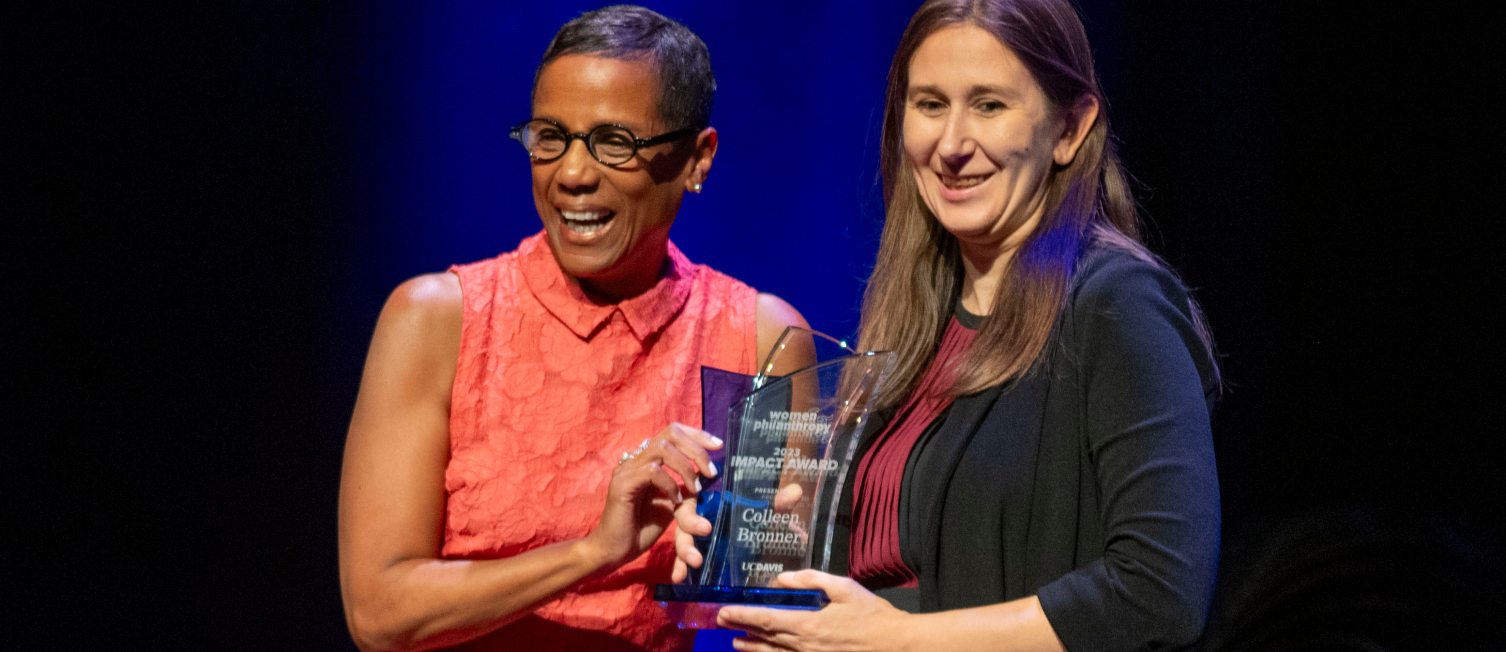 Engineering professor wins 2023 Women & Philanthropy Impact Award
At commencement, she congratulates every student by name — then they ask for a hug.
She spearheaded the drive to establish an undergraduate environmental engineering major at UC Davis, knowing women are drawn to the field.
And in the words of her department chair: "She cares passionately about creating opportunities for others and institutionalizing the change needed to allow women and other underrepresented persons to thrive in engineering."
These are just a few of the reasons Colleen E. Bronner, associate professor of teaching and vice chair of undergraduate studies in the College of Engineering, is being honored with the 2023 Women & Philanthropy Impact Award. 
"My career's mission is to empower individuals, especially my students, to be advocates and change makers, and to create equitable, inclusive and socially just spaces in engineering and academia," Bronner said. "To be recognized for my work is an absolute honor."
Bronner accepted the award onstage Sunday (Nov. 5) during the second Wisdom of Women symposium at the Mondavi Center for the Performing Arts.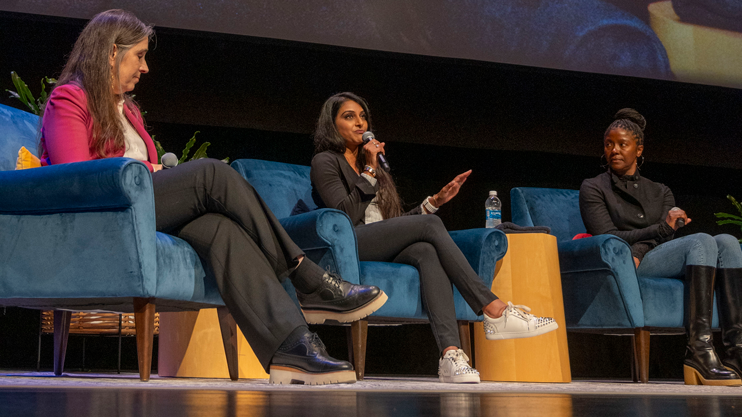 The event also featured a one-on-one conversation with activist and best-selling author Misty Copeland, the first Black woman principal dancer for the American Ballet Theatre, as well as a panel discussion with three distinguished UC Davis alumnae: Kimberly Budil M.S. '88, Ph.D. '94, Victoria Coleman '08 and Rinki Sethi '04.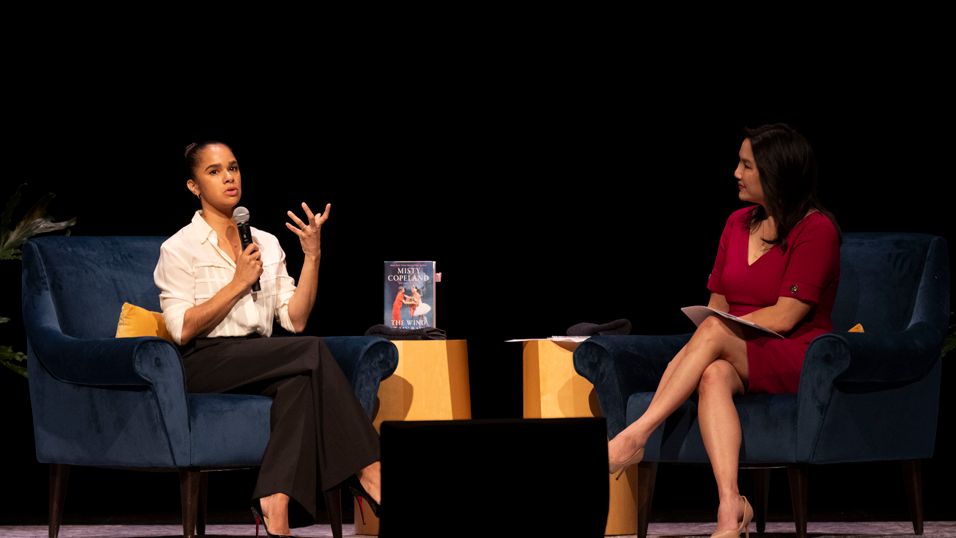 Women & Philanthropy established the Impact Award to honor a UC Davis faculty or staff member for advancing opportunities for women and significantly benefiting local and global university communities.
"Colleen has created sustainable and enduring opportunities for women in the field of engineering," said Debby Stegura '79, Women & Philanthropy Advisory Council member and UC Davis Foundation trustee. "She serves as a dedicated mentor to many students from disadvantaged backgrounds, and her way of engaging with others fits perfectly with UC Davis' principles of diversity, equity and inclusion."  
The award comes with a $25,000 prize funded by donations to the Women & Philanthropy Impact Award fund, which the honoree can direct to a UC Davis fund of their choice. Bronner has chosen to give her winnings to the UC Davis AB540 and Undocumented Student Center, which she said offers resources that help "level the playing field" for students who don't have the same opportunities as others. 
"I have had the privilege of working with several students who are either undocumented or have AB540 status, and they always inspire and amaze me with their grace and perseverance." 
Breaking down barriers 
A key component of the award is recognizing leaders who elevate others. Chris Cappa, chair of the Department of Civil and Environmental Engineering, said Bronner has emerged as a leader at UC Davis because of her dedication to seeing every person succeed. 
"In everything she does, Colleen builds ladders to bring others up with her," Cappa said. "She is simply exceptional." 
Since joining the department in 2015, Bronner has led a challenging accreditation process and the new environmental engineering major that is attracting more women to field, Cappa explained. She also leads a graduate student group for first-generation college students, called PEGS21. Through the program, Bronner fosters a more inclusive environment for these students, which has led to a major improvement in retention. 
"She clearly recognizes the structural barriers that exist for women and underrepresented individuals in institutions of higher learning, and she is working diligently to break these down," Cappa said. 
In 2019, Bronner also helped form the department's committee on diversity, equity and inclusion, or DEI, which proved to be a model for the entire College of Engineering. She was also one of the first recipients of the UC Davis Chancellor's Fellowships for DEI in 2019-20. 
Bronner is passionate about her role as faculty advisor for UC Davis' student chapter of Engineers Without Borders, or EWB, a nonprofit organization that provides clean water and sanitation to communities worldwide. 
Morgan Johnson '24, project lead on the EWB Bolivia team, said Bronner's mentorship helped her grow as an engineer and a leader. 
"Even when difficult problems arise, Professor Bronner offers sound advice and guides us through the issues while allowing us to develop our own problem-solving skills," Johnson said. "With her help, I've come to view challenges not as obstacles, but learning potentials with high rewards at the end." 
Rosemary Reuter '23, a former member of EWB, said Bronner leads with empathy, and reminds students that "the best engineering solutions put people first."
Inspired to give back 
Growing up the eldest of three children in a working-class family, Bronner said she was determined from a young age to find a way to pay for college. She was awarded a full scholarship to attend the University at Buffalo for her undergraduate degree and earned a fellowship and stipends for graduate studies at UC Berkeley. 
Bronner said the anonymous donors who helped fund her education through their financial gifts played a key role in her successes in academia – and influenced her to find a way to help future students.  
"That support inspired me to make a commitment that I was going to try to give back as soon as I was in a position to do so."