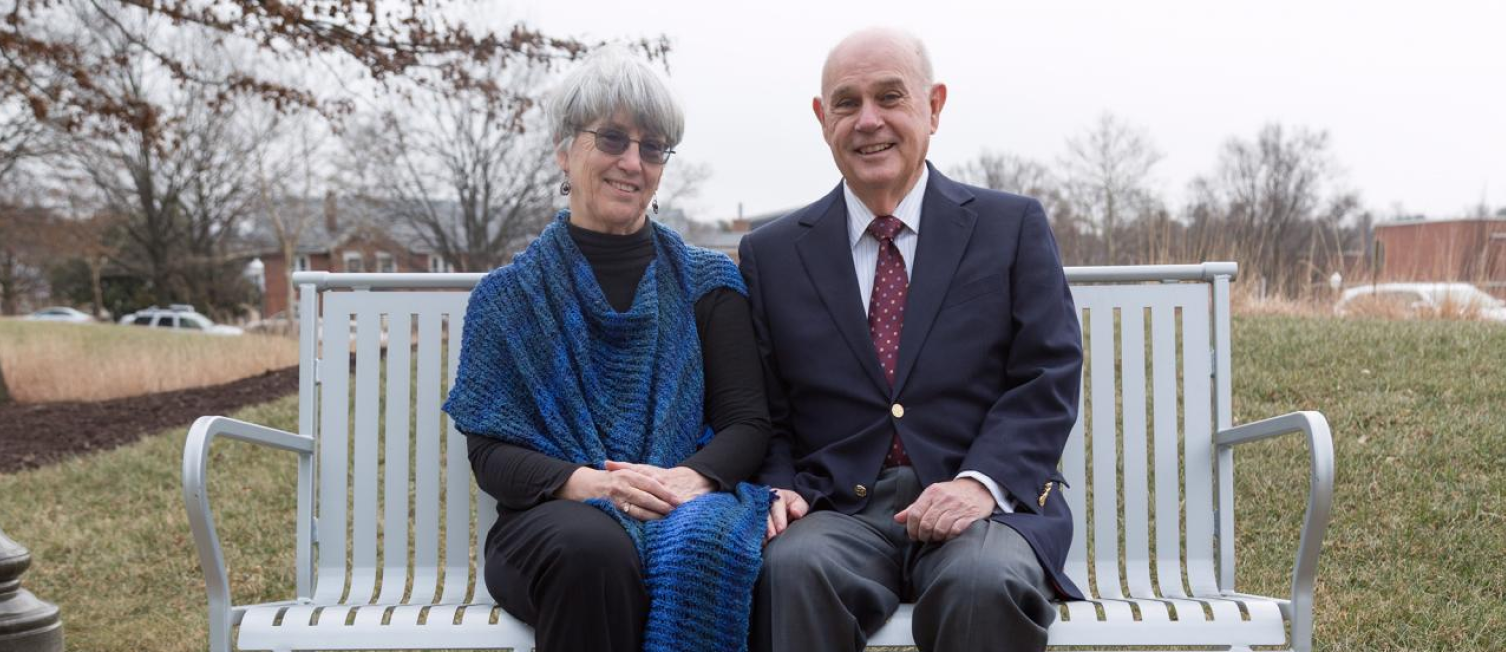 Major gift to support undergraduate teaching laboratory
Mark and Carole McNamee continue a lifelong commitment to teaching
October 21, 2021—Just outside a classroom in the Sciences Laboratory Building is an engraved sign that reads "McNamee Biochemistry Lab."
The classroom is one of the College of Biological Sciences' undergraduate biochemistry teaching labs, where upper-division biochemistry students learn the fundamentals of conducting experiments in a laboratory setting. The sign just outside its door refers to Mark and Carole McNamee, who recently made a $100,000 gift to name the classroom in support of future generations of scientists.
A Legacy of Teaching and Mentorship
The McNamees have a storied past at UC Davis. Mark McNamee, a dean emeritus of the College of Biological Sciences, came to campus in 1975 from Columbia Medical School in New York City, where he'd been a postdoctoral researcher. He was immediately taken by what he found at UC Davis – an emphasis on hands-on learning, combined with strong passions for both research and teaching among the faculty.
"I actually have a very vivid memory of the interview at UC Davis," said McNamee. "Most places that I interviewed were very gracious and very nice schools, but they would say as an afterthought 'Oh and, by the way, we're required to do some teaching.'"
UC Davis, according to McNamee, was different. The faculty he met were committed to providing quality learning experiences for undergraduate and graduate students. "I could sense the support and enthusiasm for both the research and the teaching, and it was very refreshing," said McNamee. "It made a big difference to me, and it's why I made the decision to come to Davis."
While Mark was a faculty member in the Department of Biochemistry and Biophysics (now the Department of Molecular and Cellular Biology), Carole McNamee was completing a Ph.D. in computer science at UC Davis, after which she joined the faculty at California State University Sacramento, where she taught in the Computer Science Department. From their shared passion for teaching – a lifelong endeavor for both Mark and Carole – the discussion of how and where to continue their legacy took shape.
"We are at the stage where we can think about giving back," said Carole. "We thought about what experiences have had the biggest impact on the quality of our lives and our success."
Their time on the Davis campus, where two of their three children also earned degrees, was a natural fit.
"It was a wonderful experience," said Mark, referring to his time teaching biochemistry to undergraduates. "I worked with groups of 28 students, with multiple sections each week, so I got to know my students well. I got to do a lot of hands-on teaching with them. It was extremely rewarding."
A Lasting Impact for Students
After distinguished careers in education, Mark and Carole McNamee can reflect on some of their shared high points. From working with first-generation students, to the central role UC Davis has played in their family's life, both of the McNamees have made lasting differences in the lives of many students on and off the UC Davis campus.
From first joining the faculty at UC Davis in 1975 to becoming a department chair, interim dean and then dean of what was then the Division of Biological Sciences, Mark McNamee helped shaped the college, including, in the late 1990's, the initial planning and fundraising for the Science Laboratory Building, inside which is the classroom now bearing his and Carole's name.
"I know that some people look at the administration as the dark side of life," Mark said, in reference to his time spent in leadership roles on campus. "But I never saw it that way. I saw being part of the administration as a chance to do something that could be helpful to people – as a way of making a difference in the institution."
It would be safe to say that the difference is evident in the both the growth of the Division of Biological Sciences into the College of Biological Sciences, and in the flourishing of the college's faculty and students, whose continued excellence is a testament to the positive impact of Mark's leadership, and to the spirit of teaching and learning both he and Carole share.
"It's always nice when you leave," said Mark, of his departure from campus, "and see that what you left behind gets even better and grows and develops." In the time since his departure from UC Davis for the role of Provost at Virginia Tech, the college has exceeded almost every growth measure—number of undergraduate majors, faculty, extramural research and philanthropic funding, and square footage with the building of the Genome and Biomedical Sciences Facility and the Sciences Laboratory Building.
Mark Winey, current dean of the College of Biological Sciences, expressed gratitude for the McNamee's contributions to UC Davis. "Throughout their careers, the McNamees have helped countless students," said Winey. "And their gift will further enhance the hands-on research experience of current and future undergraduates. We are deeply grateful for their generosity, and for their commitment to our college and campus."
The McNamee Biochemistry Lab is in the Science Laboratory Building, which is adjacent to Green Hall, the current home of the College of Biological Sciences. Their gift will support both immediate and long-term needs associated with the biochemistry undergraduate teaching lab, which serves as many as 90 graduating seniors each year.
"In an almost everything we have done," said Carole McNamee, "the thread that connected all these elements – for both of us – has been teaching."
More information: