Women donors uplift the next generation to build a successful future
Women have taken charge as donors at UC Davis, accounting for almost two-thirds of all giving to the university last year. Through their generosity, women philanthropists are improving students' experiences, supporting their educational goals and advancing life-changing research. 
Women gave $61.5 million to UC Davis in 2020 in donations of all sizes, from $10 to millions. These 35,105 gifts from 13,246 donors represent 59% of all giving for the calendar year. And no matter the size of each gift, its impact is profound. 
Today, inspiring leaders like Diane Bryant '85; Caroline Flores Cabias '72; Katy Carlsen '87; and Lois Goss '85 are paving the way for current and future Aggies. 
These UC Davis alumnae are giving back to students and other young people, to support the aspirations and ease the struggles of future generations. Their contributions make them a part of Women & Philanthropy, a community at UC Davis that unites women who encourage others to benefit the world.
The four alumnae have diverse backgrounds but share common strengths as benefactors giving time and resources to make the world a better place. Research shows that they are also part of a national trend.
According to the Women's Philanthropy Institute (WPI) at the Lily Family School of Philanthropy, women's share of wealth has risen considerably over the past 50 years. Today, women hold about 40 percent of global wealth. WPI also reports that women's philanthropy is motivated by their empathy for others—and as women increase their giving, they feel greater life satisfaction.
Image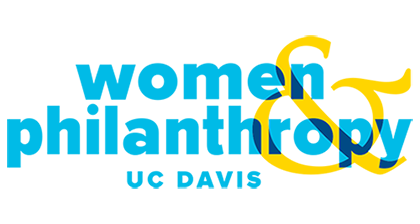 Image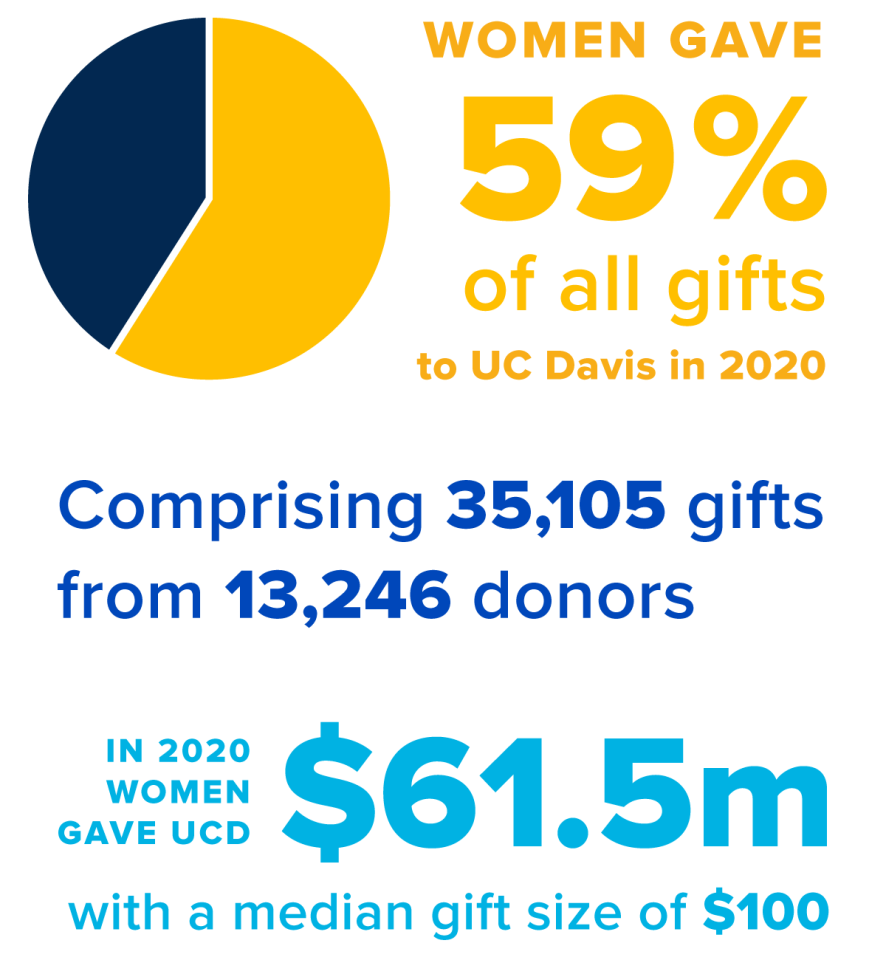 Inspired by women who came before them
As a first-generation college student who experienced homelessness at 18, Diane Bryant succeeded against all odds to become a top executive in information technology. She recently gave a $6.5 million gift to name the new Diane Bryant Engineering Student Design Center to motivate underrepresented students and fund essential hands-on learning for aspiring engineers.
Bryant had a 32-year career at Intel and is now chief executive officer and chairperson of NovaSignal Corporation. But long before Bryant made her own way to the top, her mother taught her the fundamentals of helping others. 
"There's always that nugget you take away from your parents. What my mom taught us was empathy," Bryant said. "No matter how little you have, there is someone who has less." 
Similarly, Lois Goss is inspired by her mother-in-law, who instilled in her the value of lifelong learning. Arutha Goss had to postpone college to support her family, but she never gave up on her own educational goals. In midlife, she earned her associate's degree, a bachelor's, a master's and—at age 70—a doctorate in theology.
Following in her mother-in-law's footsteps, Lois Goss—along with her husband, Darryl Goss '83—have created numerous endowments to support students at UC Davis. They chose to honor Darryl's parents with their most recent gift of $1.5 million: the Austin and Arutha Goss Presidential Chair in the Department of African American and African Studies.
"Arutha helped me realize that my education is just as important as anyone else's and that I should be proud of my accomplishments," Lois Goss said. "My adoptive parents are both deceased and I grew up during a time when educating women was not important, so I lacked the support to feel confident in pursing my own education."
Finding a concrete support system at UC Davis
Finding a supportive community during college can change the course of any student's life, and is a powerful reason women invest in the students who come after them.
Caroline Flores Cabias says she connected with Latinx faculty and staff while an undergraduate at UC Davis, discovering her calling to serve her community. Her impact has been so profound that she is the recipient of the 2020 Cal Aggie Alumni Association Aggie Service Award.
"My work is rooted in my personal experiences so my passion for supporting and serving students who come after me is a commitment on my part to make their lives a little bit easier," Cabias said.
As a UC Davis donor, Cabias has established the Caroline F. Cabias Endowed Award Fund and gives to the Chicanx/Latinx Alumni Scholarship to improve educational access opportunities.  
She has held several management and leadership positions in California state government and was a founding member of CAFE de California, the largest Latino employee advocacy association in state government. 
Lois Goss found her passion and confidence to reach greater heights at UC Davis through the African American community on campus, which she says was encouraging and motivating, helping her believe in herself and her future. 
Today she wants to dispel fears and untruths among students who may feel like they don't belong at UC Davis: "Getting into UC Davis is no small feat, and the fact that you are here says a lot about who you are and where you came from," she said.
And Diane Bryant credits the College of Engineering's welcoming structure with helping her thrive as a first-generation and transfer student in a new, challenging environment.
"Having attended American River College my first two years, UC Davis was my lifeboat. The transition was positively seamless," Bryant said. "My hope is the Engineering Student Design Center provides a visual reminder that everyone can succeed in the field of technology."
Foundational support for youth
Giving back to UC Davis students is quite common for alumni, but Katy Carlsen—an alumna who also did her pediatrics medical residency at UC Davis—decided to support even younger students.
Her calling to help children has driven the UC Davis pediatrician's professional and philanthropic life. Carlsen and her husband, Dale Carlsen, recently gave $2.55 million to establish the Foster Care Resilience Fund at UC Davis Health's Department of Pediatrics, a first-of-its-kind clinic in Sacramento to support mental health care services for children in foster care. 
"It takes just one supportive adult to cultivate resilience in a child. It's that simple," Carlsen said.
Carlsen has spearheaded this project and donated funds to make the clinic a reality. A UC Davis endowment has also been established to generate funds.
"The key part of this clinic is to provide care coordination, not only with child welfare but also with those involved in the child's life in a child-centered manner," Carlsen said. "We have integrated general pediatricians, mental care professionals, behavioral therapists and child psychiatrists, along with public health nurses and the county's child welfare."
The gift of volunteering time and expertise
No matter how busy these women's schedules may be, their gifts of time continue to grow. Carlsen serves as a pediatrician and medical consultant at California Children's Services, and volunteers her time as a UC Davis clinical faculty member.
"UC Davis holds a special place in my heart because I was a student there and I feel it's an integral part of the community," Carlsen said. "I wholeheartedly support UC Davis because of the opportunity to build resources and impact the foster youth in the best way possible."
Lois Goss shares the same fondness of UC Davis. Goss serves on the College of Letters and Science Dean's Advisory Council, the Women & Philanthropy Advisory Council and the Davis Chancellor's Club Cabinet—because, she says, UC Davis taught her to give back.
"My mother-in-law has a saying that selflessness this is not thinking less of yourself, but thinking of yourself less. UC Davis has taught me to really look beyond myself, see the big picture and give back to others," Goss said.
Diane Bryant also serves in multiple capacities at UC Davis. She is on the College of Engineering Dean's Executive Committee and the Chancellor's Board of Advisors—all this in addition to her packed personal and professional life. 
"Women are amazing multitaskers and somehow we always figure out how to manage time effectively," Bryant said. "When I was asked to join UC Davis' engineering committee, I was immediately on deck because if my passion is to change the representation of technology, volunteering my time to the university is a fundamental piece towards my goal." 
Since retiring from her public service career, Caroline Flores Cabias has given her time to serving her community. At UC Davis, she is co-chair of the Chicanx Latinx Alumni Association—one of the fastest growing networks within the Cal Aggie Alumni Association—and serves on the UC Davis Foundation Board and the advisory board of the Mondavi Center for the Performing Arts.
"Volunteering at UC Davis connected me with a whole network of like-minded alumni who value putting together our resources and figuring out what we can do to support students," Cabias said. "There's a critical need to increase the availability of financial aid so that students can be supported through their four years to graduation."
Bryant, Cabias, Carlsen and Goss are an inspiration for all who aspire to follow in their footsteps and make their own positive impact on the world. To learn more about Women & Philanthropy, visit womenandphilanthropy.ucdavis.edu.