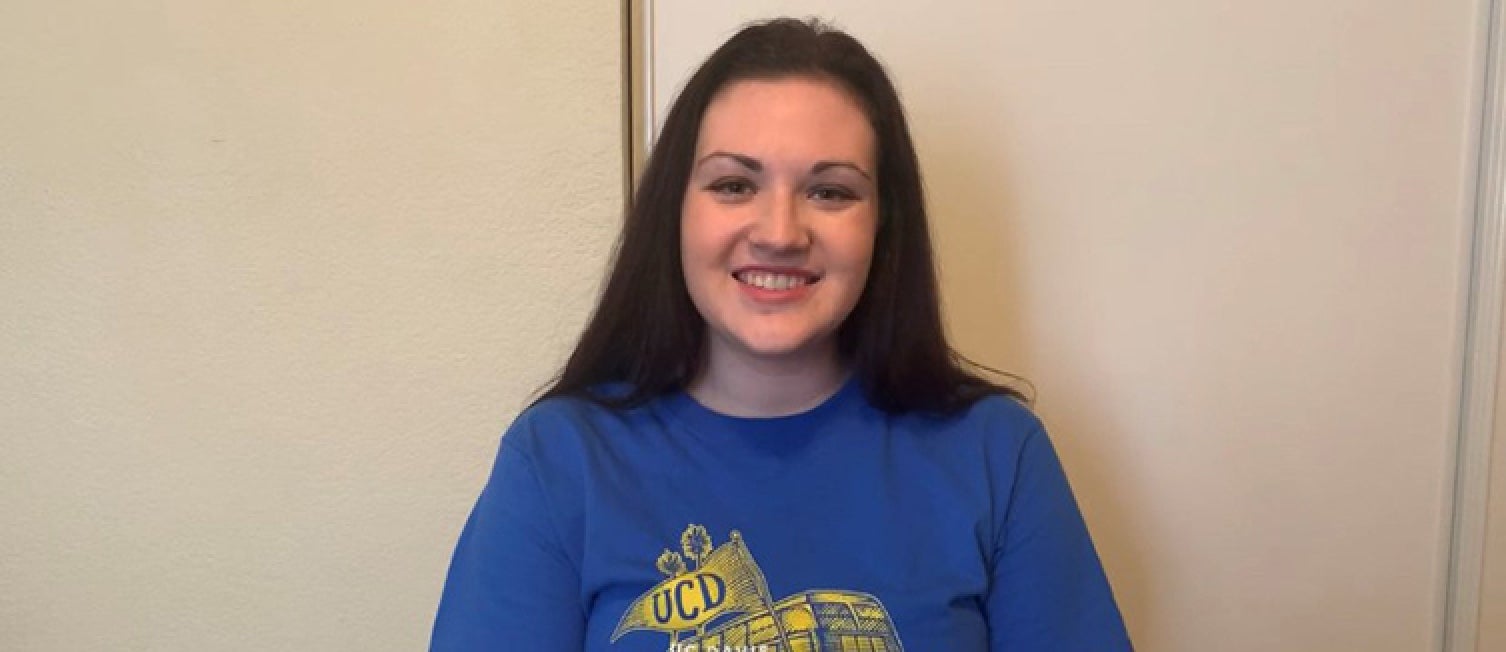 How the Student Foundation found ways to thrive and support their peers during the pandemic
This past year has been unlike any other for students; however, they persevered and even found ways to support each other. Specifically, the Student Foundation at UC Davis has been busier than ever as they ramped up their Aggies Helping Aggies efforts to help students financially during the pandemic.  
Aggies Helping Aggies is a student-run volunteer group that works with donors to raise money and educate the student body about the importance of philanthropy. Members of Aggies Helping Aggies shared their experience and successes working remotely. 
From May 24 through 28, the UC Davis Foundation's "By Philanthropy" initiative highlights the work that has been made possible by the generosity of others.
Students raise money to help their peers survive the pandemic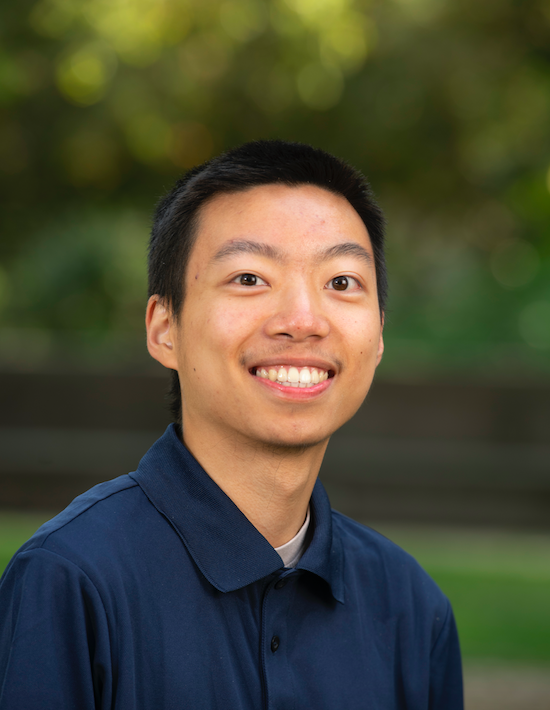 Jeffrey Lee '22, who is majoring in sociology-organizational studies, is the Aggies Helping Aggies development committee co-chair and decided to get involved with philanthropy because of his previous internship experiences at several nonprofits, whose stability and success depended on their quality of donor relations. 
"Through my involvement in Aggies Helping Aggies, I have learned a lot about the importance of philanthropy in providing valuable resources and scholarships for students," Lee said. "While a small portion of student-focused programs are covered by tuition, many others rely on the generous support of donors."
Despite having to operate fully virtually due to the pandemic, Lee said Aggies Helping Aggies organized and led two crowdfunding initiatives to help fellow UC Davis students in need. 
"In October, we fundraised for the Student Emergency Relief Aid (SERA) award, allocated to students in urgent situations that may prevent them from continuing their education," Lee said. "Through digital and individual outreach, we were able to raise over $5,000 from alumni and other donors towards the SERA endowment."
And in February, they promoted their Senior Class Challenge in support of Aggie Compass' Rapid Rehousing Program. From this campaign, Lee and his team raised nearly $3,000 to supply bedding, hygiene kits and other resources for unhoused students. They were also able to host a Careers in Philanthropy panel to showcase the different opportunities that exist in this field.
"I am very glad that I was able to help contribute towards initiatives that will benefit students in the years to come," Lee said. "Although we couldn't reach out to our peers in person, I think that we adapted to the situation as best as we could. With the funds that we raised, we can help ensure that students have the resources they need to thrive academically and personally, now and in the future."
Combining social media, philanthropic support and a new passion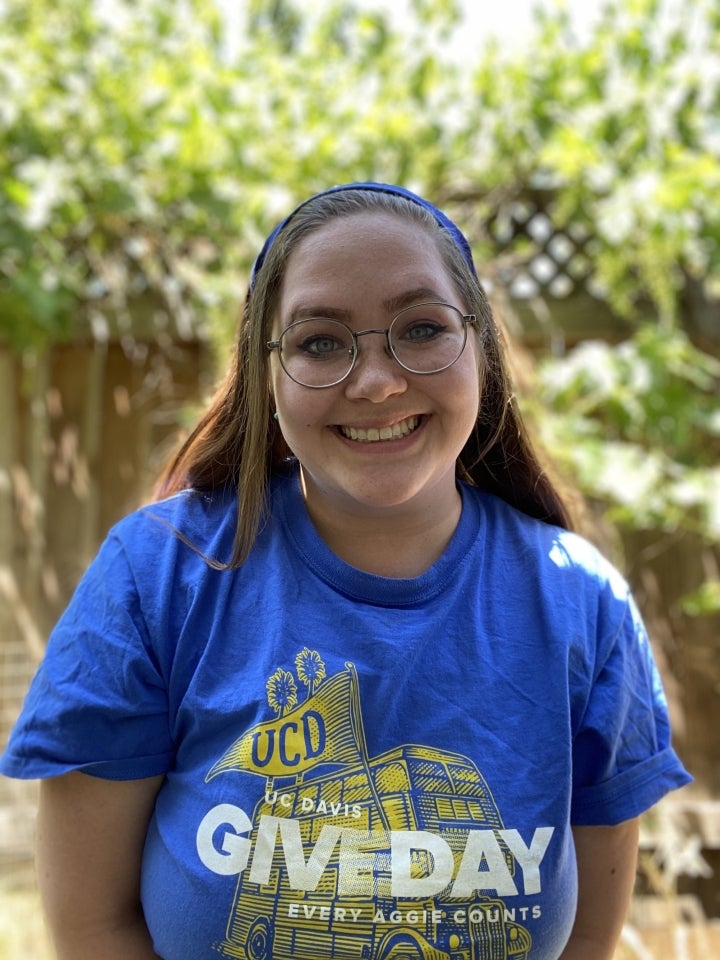 Aggies Helping Aggies believe students supporting each other is an important part of the Aggie identity and reinforces UC Davis' mission to make the world a better place, which is exactly why Perri Gish '22 joined the group during the pandemic. Gish, who is majoring in animal science, is a marketing and stewardship committee trustee and works on creating and editing video content to promote Aggies Helping Aggies to potential trustees. 
"I didn't really know how crucial donor support can be for UC Davis and philanthropy before becoming a trustee," Gish said. "But having more of an integral hand in promoting student philanthropy made me realize how important all donors are and how philanthropy can make a huge impact on everyday life." 
With the onset of the COVID-19 pandemic, many of Gish's volunteer opportunities were cancelled so she was searching for a new outlet. Gish said joining Aggies helping Aggies gave her a great sense of community and allowed her to give back to different fields or groups that have supported her in the past.  
"I find great joy in helping others and Aggies Helping Aggies has provided a way for me to still be able to help the local community during the pandemic," Gish said. "I gained the experience of student-run philanthropy and became a part of planning and directing a program that is unlike any volunteer opportunity I've done before."
A transformative year for student philanthropists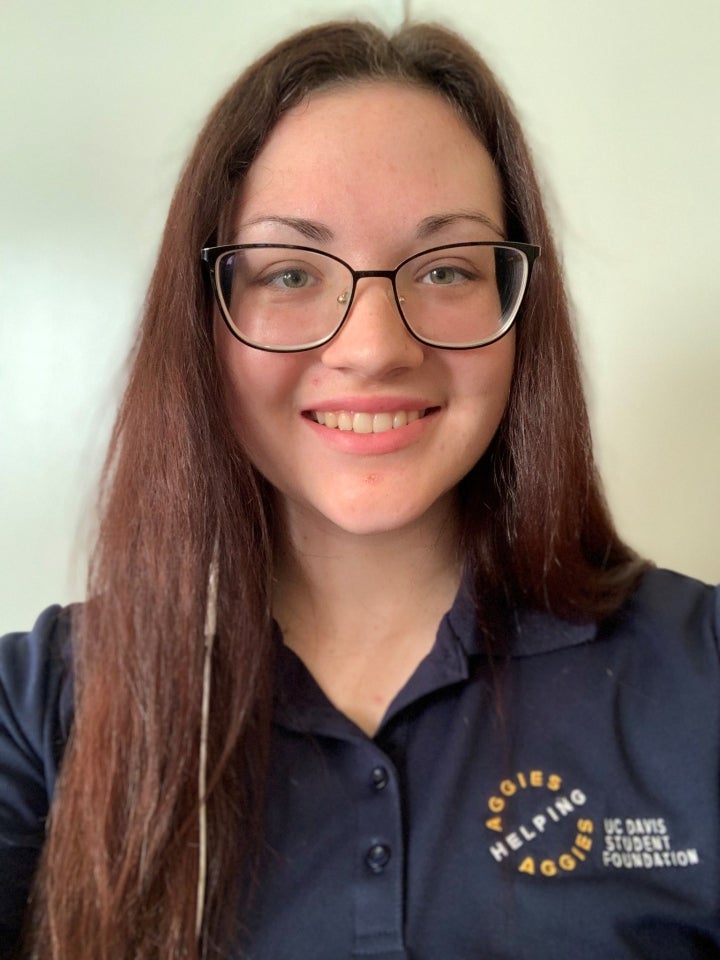 The Aggies Helping Aggies President Megan Ainley '22 can confirm that this year has been incredibly formative for the group, as well as herself, because circumstances have been so different from what they expected. 
"Donor support is always necessary and appreciated, but this year it has been more important than ever," Ainley said. "Donor support is invaluable, and we could not have accomplished this much for our students without them, which I will forever be grateful for."
Ainley, who is majoring in neurobiology, physiology and behavior, has always been interested in philanthropy and helping people because growing up as a biracial, bisexual woman, she has witnessed firsthand the need for philanthropy in daily life. Given the negativity that infiltrates the news, Ainley feels that it is even more important to support people who need help in the best way possible. 
"I joined Aggies helping Aggies because I wanted to support students and our goal in cultivating a culture of philanthropy on campus has gone a long way towards that," Ainley said. "Knowing that our work is helping students directly and that it has an impact on campus has inspired me to continue working to help our students, as I hope it has inspired others as well."
The future for Ainley involves helping others at the core which is why she is on the pre-med track at UC Davis. She hopes Aggies Helping Aggies will continue to educate students about what philanthropy does for them and its importance on campus, in addition to supporting the community as much as possible. 
"I love the work that I am doing for UC Davis, and am proud to be a part of this organization, which has been able to accomplish so much in the past year and I hope I will continue to do so in the future," Ainley said.