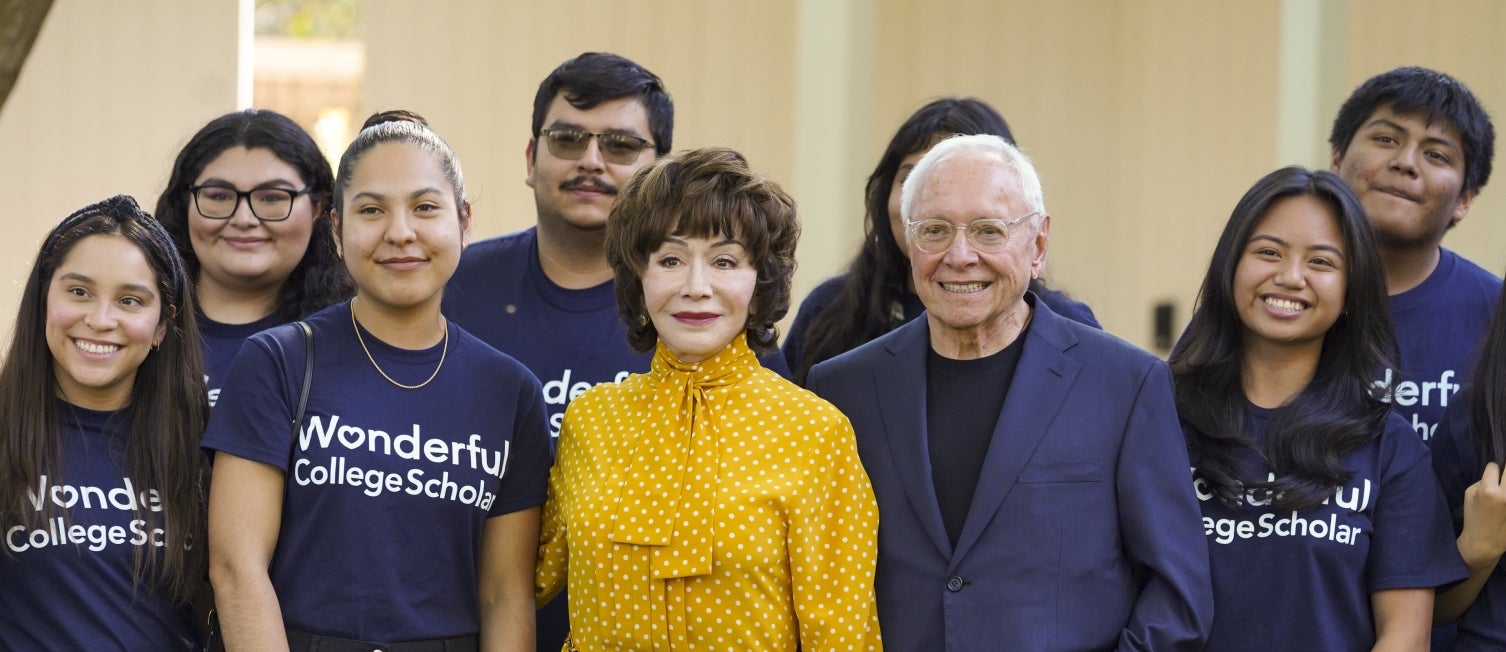 A transformative gift for a sustainable future
Lynda and Stewart Resnick pledge $50 million to UC Davis for innovation at the intersection of agriculture, sustainability and climate science
A new center for agricultural research and innovation will accelerate the global movement toward a more sustainable future, thanks to philanthropists Lynda and Stewart Resnick, co-owners of The Wonderful Company. The Resnicks' historic $50 million pledge—the largest gift ever to the university by individual donors—will establish the Lynda and Stewart Resnick Center for Agricultural Innovation and direct $10 million toward competitive research grants through the Resnick Agricultural Innovation Research Fund.
Design on the Resnick Center is expected to begin this year, with construction slated for completion by 2026. Once built, the new 40,000-square-foot LEED certified state-of-the-art hub will house classrooms, research and lab spaces, and student career and advising services.
The center will allow experts from across UC Davis to expand their explorations of new ways to balance global agricultural industry production with sustainable, scalable solutions.
"Lynda and I are so proud of what this new center will accomplish, as a hub for the best researchers in the world to help agriculture be part of the solution to climate change," said Stewart Resnick, who is also a member of the UC Davis Chancellor's Board of Advisors. "With one foot rooted in science and the other in social impact, the individuals who pass through this center have the opportunity to be the heroes of our time."
Growing a longtime partnership
The Wonderful Company and UC Davis have been partners for more than 40 years.
"There is no stronger partner to drive transformative innovation than UC Davis," Resnick said. "The relationship between The Wonderful Company and this campus is strong and longstanding. We share a passion for progress at the intersection of agriculture, science and sustainability."
To date, Wonderful has hired more than 50 UC Davis alumni to its company and have more than 60 Wonderful Scholars currently enrolled at the university. Many of these Wonderful Scholarship program recipients are first-generation college students from California's Central Valley region.
Finding new uses for crop byproducts
The Resnick Agricultural Innovation Research Fund aims to support the transition to food production systems that repurpose and continually reuse as much byproduct, agriculture and otherwise, to reduce waste and ease the environmental impact of food production for a growing world.
Specifically, the fund will promote collaboration across an expanding network of research faculty, agricultural producers, food companies, pharmaceutical companies and commodity boards, who can together deliver scalable change that delivers a sustainable future for generations to come.
Beginning this year, research grants will be awarded annually to UC Davis faculty and Cooperative Extension specialists focused on identifying value-added properties in pistachio, almond and pomegranate byproducts. The concept has its roots in the decades-long collaboration between UC Davis and The Wonderful Company—taking ideas from cutting-edge research to practical implementation in the fields.
This includes last year's Wonderful Innovation Challenge, which sought to fund practical solutions that could be applied across the Resnicks' company to advance sustainability. One outcome was a new way to repurpose the more than 50,000 tons of pomegranate husks generated each year making POM Wonderful juice—byproduct otherwise destined for a landfill.
Image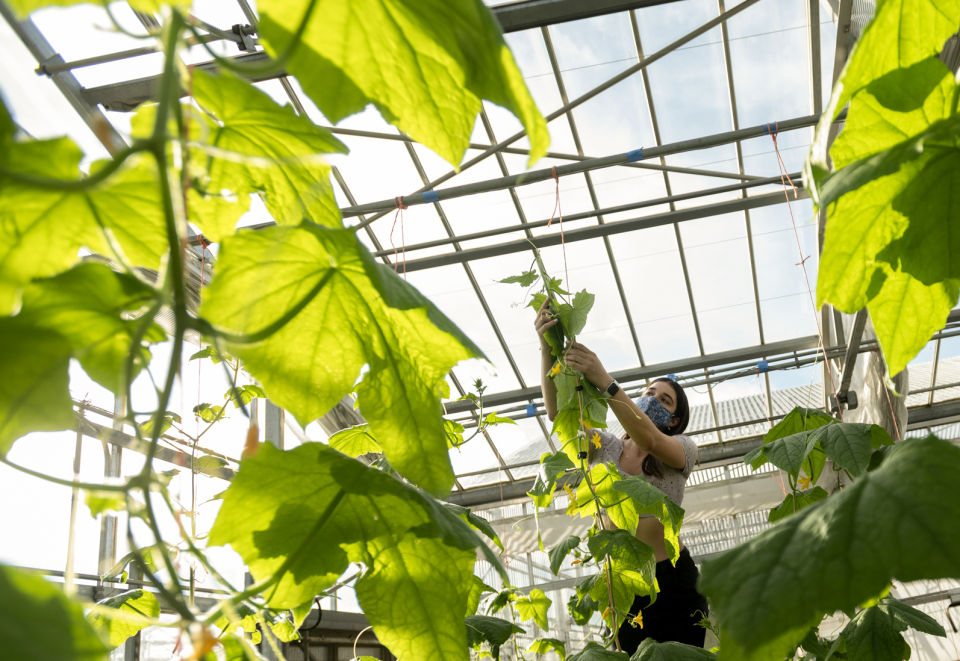 Developing sustainable, resilient crops for nutritious food
Implementing innovative solutions to address climate change is imperative, particularly with rising temperatures, as crops need to withstand diversified environments.
The university's holistic approach to sustainable agriculture considers the impact on the planet, people and communities—with an emphasis on expanding access to nutrient-dense food in underserved communities.
"Thanks to this historic gift from Lynda and Stewart Resnick, UC Davis will further expand its global reach, helping to shape the future of sustainable food production," said Gary S. May, UC Davis chancellor. "This gift demonstrates a continued commitment to innovative environmental stewardship and allows us to create science-based solutions that can be rapidly deployed while mitigating the impacts of climate change."
By bringing engineering and agricultural experts together, the center will allow UC Davis to accelerate the development of new methods for food production. Faculty, industry partners and students will translate molecular science breakthroughs into cutting-edge tools—leading to new sensing and robotic systems including smart machines and intelligent irrigation systems.
Work at the center will enable the molecular discovery of critical plant traits that deliver highly nutritious, resilient crops that can be sustainably grown with limited resources. In addition, the center will prepare students to lead California's food science and policy, and develop industry best practices to support vibrant, healthy communities.
"Advanced technologies, coupled with facilities that enable student training and innovation, will ensure the center produces both the technologies and experts needed to meet the challenges of creating a sustainable food system," said Christopher Simmons, professor and chair of the Department of Food Science and Technology.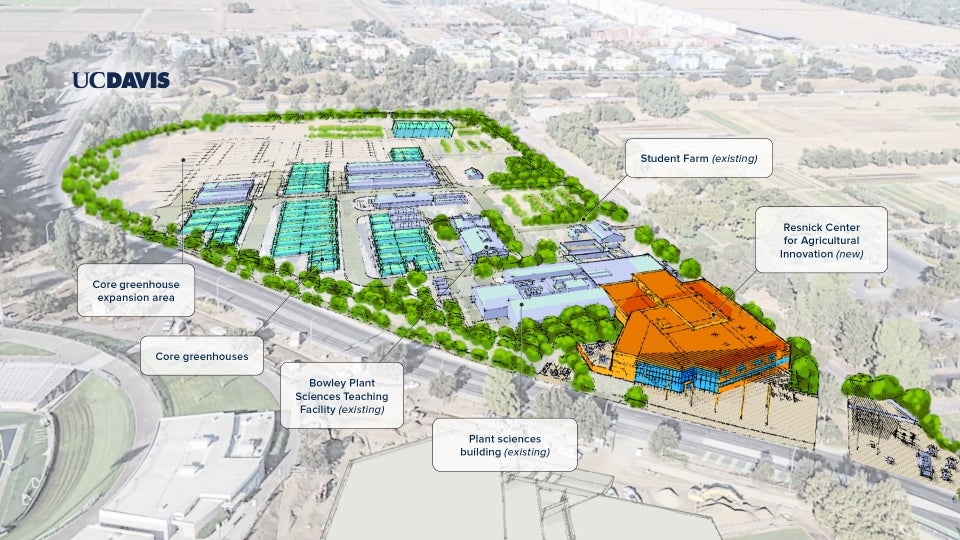 Conserving critical resources
Water management is essential to keep crops resilient. As leaders in hydrology and soil science, UC Davis experts and students are developing technologies that will optimize water use.
"The new center's capabilities will further enable advancements in agricultural sensing and robotics, novel crop varieties, artificial intelligence in agriculture, and more," said Simmons.
With the Resnicks' support, faculty can focus on new methods of accelerating groundwater recharge—where surface water rejoins groundwater—to bank greater reserves during rainy seasons to use for future irrigation needs.
Another conservation focus will be food waste management, as discarded food in landfills represents millions of dollars of waste and creates an abundance of greenhouse gasses. The center will empower faculty to further explore innovative ways to put food waste to use, with the potential for extracting food compounds from agricultural byproducts, such as plant stalks, leaves and nut shells, for nutritional purposes.
"Many specialty crop byproducts are treasure troves of compounds that can promote health, improve soil quality, influence microbial ecology, or be converted into valuable products," said Helene Dillard, dean of the College of Agricultural and Environmental Sciences.
Image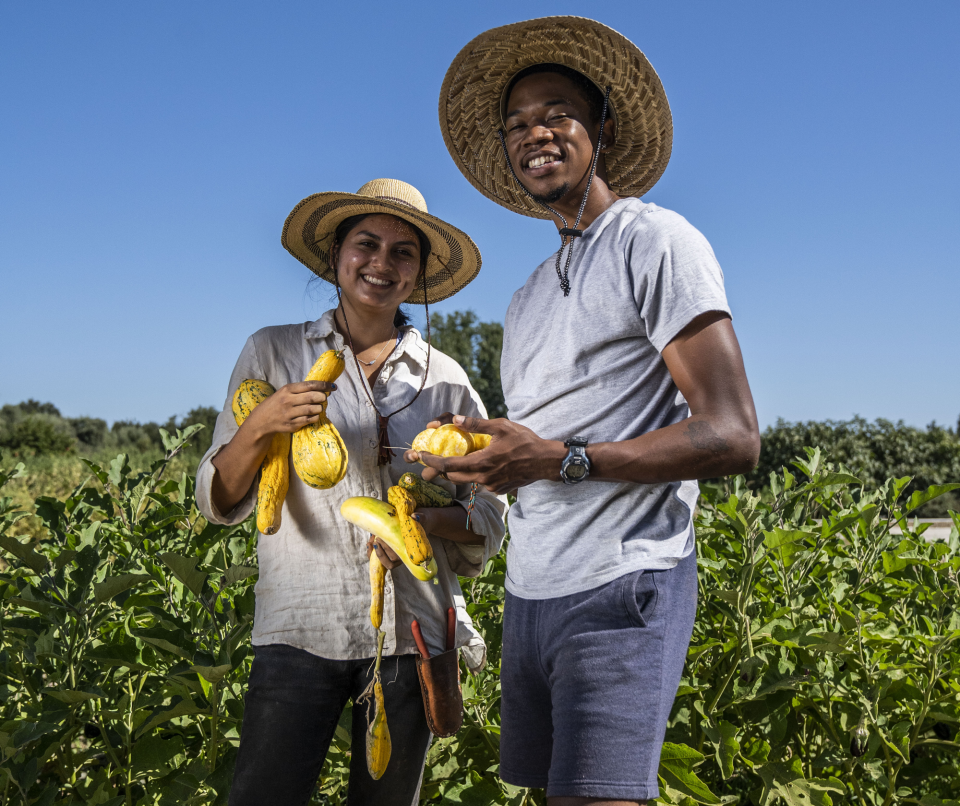 Improving lives is the heart of Wonderful
The Wonderful Company, co-run by Lynda and Stewart Resnick, is one of the largest privately held companies in the U.S. Their iconic brands include FIJI Water, POM Wonderful, Wonderful Pistachios, Wonderful Halos, Wonderful Seedless Lemons, Teleflora, JUSTIN, JNSQ and Landmark wines.
Every year, the Resnicks invest in education, community development, and health and wellness initiatives across the Central Valley, where much of their company's agricultural production takes place.
To date, the Resnicks have invested more than $2.3 billion in philanthropy, with more than $1.3 billion invested in environmental sustainability.
"The Central Valley, the people here and the fertile, generous land have been so good to us," Stewart Resnick said. "There is no place on earth where Lynda and I are more committed to giving back."
"The Resnicks' vision is a testament to what philanthropic partnerships with UC Davis can achieve," said Shaun B. Keister, vice chancellor for Development and Alumni Relations.
UC Davis is a natural partner for the longtime university donors, as it leads the way in advancing agricultural innovation, sustainable farming and food security, in California and around the world.