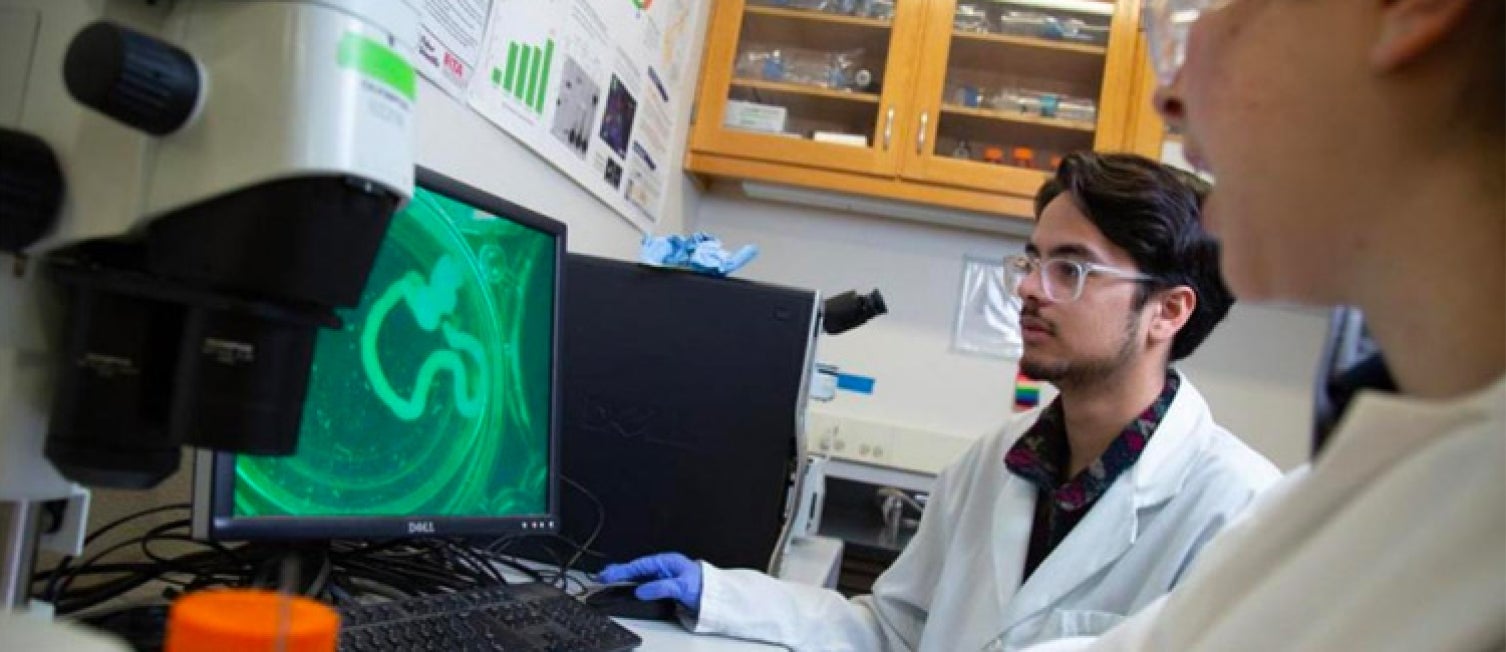 AvenueB creates a path to success for biology students
Program Builds on Positive Learnings from Engineering Avenue
The Genentech Foundation has donated $2.5 million to the University of California, Davis, College of Biological Sciences — the college's largest single gift ever — to fund a program that will help biology students transferring from community college. Called AvenueB, the program will provide financial support and preparatory programs for students going to four-year university.
According to the Campaign for College Opportunity, students transferring from community colleges to a University of California campus may pay $36,000 more in tuition and fees than those who enter as freshmen. Challenges such as coordinating class requirements, units and fees — the so-called transfer maze — can delay a student's path to success and result in unnecessary costs. 
AvenueB aims to eliminate this gap. Designed to remove barriers that prevent greater participation by women and underrepresented minorities in STEM, it will serve high-potential, low-resource students and first-generation college students. 
It is similar to AvenueE for transfer students to the College of Engineering, a program funded in 2016 in partnership with Chevron, the Koret Foundation and the Office of the Provost STEM Strategies.
The next chapter
By integrating career preparation into higher education, AvenueB aligns with what is happening in the Aggie Launch Big Idea — a pilot program that has already seen success with student-athletes.
"We are excited about what the Avenue system and Aggie Launch can do for our students," UC Davis Chancellor Gary S. May said. "Our duty is to serve the greater public good, and these programs only enhance the stellar education and training our students receive in order to carry out that mission."
In providing the lead gift for AvenueB, the Genentech Foundation aims to promote equity through the creation of sustainable career pathways for underserved, transitional-aged youth and adults who are interested in growing sectors like biotechnology.
"We are proud to be a catalyst for AvenueB, which will provide robust and meaningful support to help dismantle barriers for underrepresented students interested in science and medicine," said Carla Boragno, chair of the Genentech Foundation and senior vice president and global head of engineering and facilities, Pharma Technical Operations. "UC Davis is home to a vibrant, diverse student population and we look forward to following their progress though this new program."
The Avenue roadmap
AvenueB students will get a unique opportunity to join an intensive preparatory program prior to entering their final year at community college. The following summer, the students will embark on a two-week summer bridge program before beginning their first quarter at UC Davis. During those two weeks, students will immerse themselves in the UC Davis community as they learn about all the resources available to them on campus.
Each AvenueB cohort member receives a scholarly award for the Transfer Bridge summer program, as well as up to $4,000 for the two subsequent years at UC Davis. Students also get the chance to attend group outings, social activities, speaker presentations and workshops that provide opportunities to engage in peer-to-peer learning, community building and career exploration.
The College of Biological Sciences is not unfamiliar to programs such as AvenueB. The program BioLaunch currently serves all 1,600 first-year freshmen and transfer students, with the intent to help students develop a sense of community, build life science skills and find research opportunities within the college. The program features similar activities such as an introductory course, peer mentorship and events and field trips for freshmen and transfer students.
The pilot cohort will consist of 10 students and will launch in the fall of 2020. Over the next two academic years, the program will increase by 10 students, until each cohort caps at 30 students total.
"The more we break down barriers to entry in the life sciences, the more we illuminate a path to academic and professional success," said Mark Winey, dean of the College of Biological Sciences. "Thanks to the Genentech Foundation for recognizing this need and investing in our transfer student program."