From studies to hobbies, powered by philanthropy
Med Students Share How Scholarships Help at Home
As if the rigors of medical and nursing school aren't challenging enough, UC Davis Health students are navigating their educations amidst the coronavirus pandemic. In times like this, philanthropy can make an even more profound impact on those affected.
While some summer graduates have been able to complete their requirements – for example, the Betty Irene Moore School of Nursing and the UC Davis School of Medicine collaborated to ensure final-year physician assistant and family nurse practitioner students could complete their requirements on time – most are at home.
Since many cannot attend class or rotations at the hospital, students are staying productive with everything from providing care for the homeless through the Encampment Med Team project to sending their peers care packages. And through it all, generous scholarship support is helping them stay afloat.
From May 11 through 15, the UC Davis Foundation's "by philanthropy" initiative highlights the work that has been made possible by the generosity of others.
In addition to these profiles of medical students supported by scholarships, check out the by philanthropy website for more videos and stories — along with an interactive campus map showing the buildings made possible by donor generosity.
Roxana Cabrera '16, M.D. '21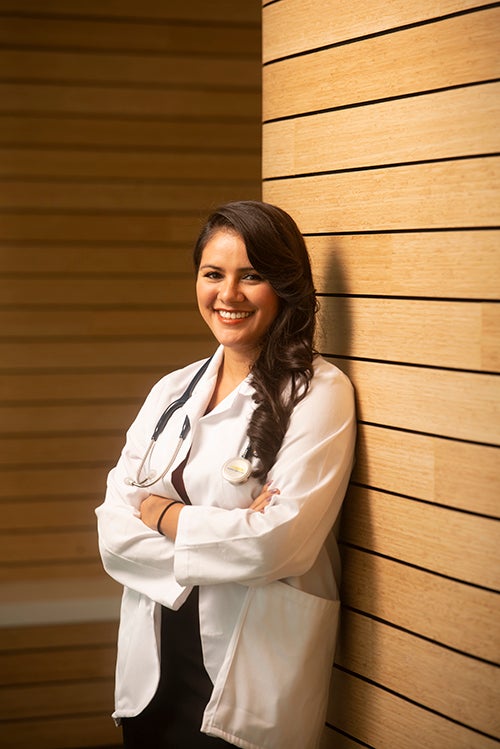 Scholarship(s): Richard D. & Kate Faulkner Scholarship, School of Medicine Alumni Association Scholarship, Plummer-Linzy Scholarship Elizabeth P. Wood Fund, Janet Gordon Armour, M.D., Scholarship and W&J McGowan Award.
Hometown: North Lake Tahoe
One of the many reasons Roxana Cabrera chose the UC Davis School of Medicine Program is the Rural-PRIME program. This program focuses on training the next generation of rural physicians. While there is a shortage of physicians across the country, the need is even greater in rural communities where many physicians are retiring, leaving a void in those communities.
Cabrera's hometown is one of those communities — it also serves as one of the rotation sites for students in the Rural-PRIME program.
"It has been really nice to get to know a lot of the physicians in the Truckee and Tahoe area," Cabrera said. "I even got to do a rotation at the Tahoe Forest Hospital where I was born."
While her rotations are suspended, Roxana continues to study for her exams. She has also had more time to do her hobbies, including painting picturesque landscapes.
As a first-generation college student, Cabrera is especially grateful for her scholarships and has even had the opportunity to meet her donors over lunch.
"I really appreciate that UC Davis connects us to our donors," she said. "It's just such a special way for us to be able to express our gratitude."
Irina Karashchuk '18, M.D. '23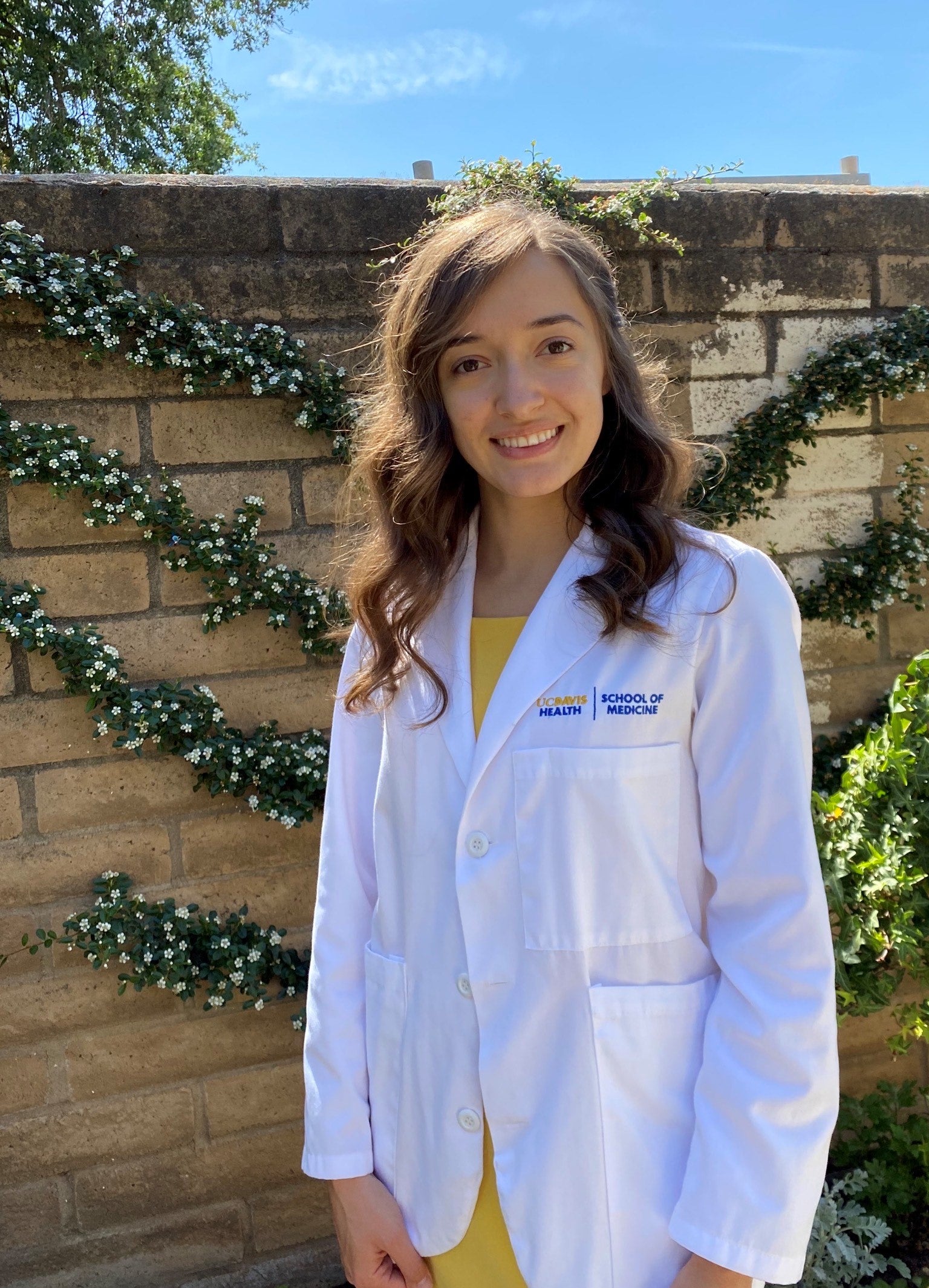 Scholarship(s): Michael W. and Elizabeth C. Chapman Medical Student Scholarship
Hometown: Sacramento
Irina Karashchuk comes from a large, tight-knit family in Sacramento. So, when it came time to choose a medical school, she wanted to continue her education at her top choice: UC Davis.
"When I did my interview at the School of Medicine, a group of first-year medical students came and talked to some of the prospective students. They were so authentic and genuine, I couldn't believe the collaborative nature of the cohort," Karashchuk said.
Since the pandemic hit, clinical rotations and classes have been suspended. However, to make up for that, Karashchuk said students have had a lot of opportunities to practice telemedicine with patient interactions via video chat.
"Although I would rather be in the hospital learning and doing rounds, interviewing a patient over Zoom is great practice for me," she said. "More and more telemedicine is definitely in our future as medical professionals."
During her free time, she has begun playing her violin again. Karashchuk took eight years of lessons and continued to play her violin while an undergrad at UC Davis, but hasn't had the time since beginning medical school.
John Mark '17, M.D. '22
Scholarship(s): School of Medicine Alumni Association Scholarship and William & Ann Kohl Research Scholarship
Hometown: Sacramento
John Mark was ready to make the cross-country move to the East Coast to attend medical school. However, as a Sacramento native, Mark wanted to stay local.
"Being awarded the scholarship was really the deciding factor for me to stay at UC Davis for medical school," Mark said
How is Mark coping during this time of uncertainty? Well, between studying for his exams and doing his coursework, he has rediscovered one of his hobbies: baking. He enjoys baking cookies and has even sent a batch to his grandpa, who is unable to leave his home while the shelter-in-place order is in effect.
Mark said he is extremely grateful for his scholarship. It has given him peace of mind and has been a huge factor in his ability to keep a positive mindset amid the pandemic.
"I want to thank donors so much for their incredible generosity; it is very humbling to have someone give out of their own resources," Mark said. "It's really moved me to engage in philanthropy myself when I am financially able. These scholarships have allowed me to pursue my passion and become the best doctor I can for my community."
If you would like to see how philanthropy has empowered his entire medical school journey, click here. 
Mayra Orozco-Llamas '16, M.D. '22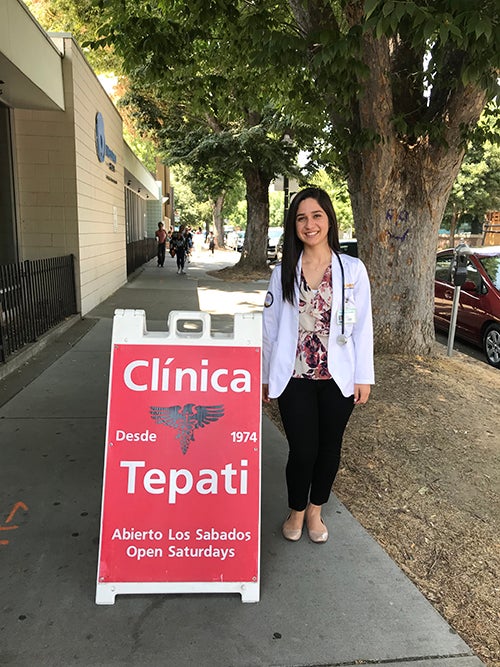 Scholarship(s): Annamae Boe Medical Scholarship Fund and Ben & Laurie Trainer Medical Student Scholarship
Hometown: Oakland
As an undergrad, Mayra Orozco-Llamas volunteered at the Clinica Tepati, a UC Davis student-run clinic that provides care to the uninsured undocumented community of Sacramento. She says Clinica Tepati had a big impact on her life.
"It was the first time I met Latino medical students and doctors, which allowed me to envision myself as a future medical professional serving the uninsured population," Orozco-Llamas said.
Orozco-Llamas said she appreciates her scholarship, because it enables her to choose her career based on her passion, not on future earnings. She is also humbled that someone would believe in her potential and invest in her education.
"I think what our patients need is for me to be the most capable doctor possible," she said. "Just being able to just focus on my studies for now and not have to worry too much about how I am going to pay rent is such a blessing."
In her spare time during this pandemic, Orozco-Llamas has picked up a new favorite hobby: making candles.
"I just received the 10 pounds of wax I ordered in the mail," she laughed. "When I'm studying, I always light a candle because it calms the mood and helps alleviate stress."