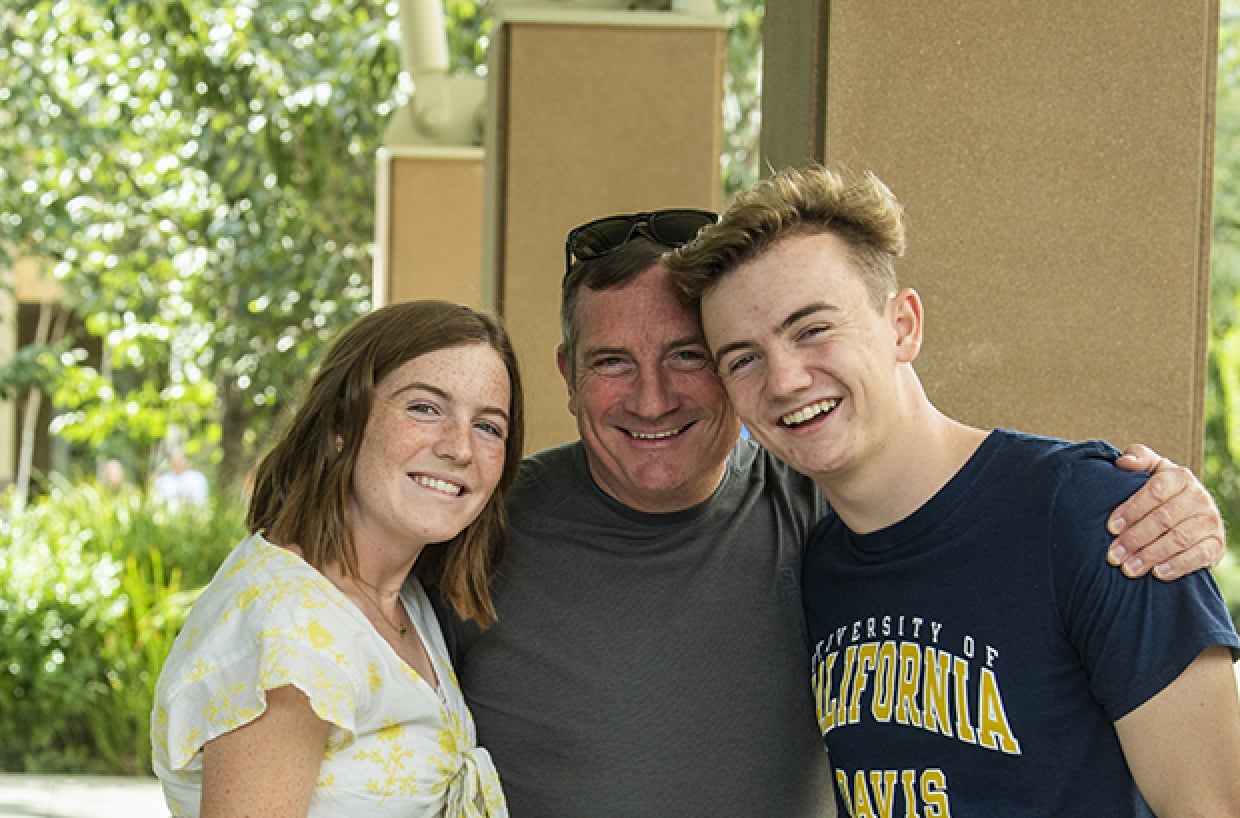 Welcome to the Family!
Family Fellows is a group of UC Davis families—parents, grandparents and others—who are committed to creating exceptional collegiate experiences for our students by supporting programs that are meaningful to them. They inspire university leadership, staff and other families to achieve the best for UC Davis students by serving as examples of philanthropic giving and engaged support.

Family Fellows strengthen UC Davis by giving to programs in these areas and more:
Scholarships for students from a range of backgrounds and majors
Research opportunities across academic disciplines
Career preparation through internships and mentoring
Gifts to the unrestricted Parents Fund allow Chancellor Gary S. May to support vital programs including:
The Chancellor's Fellows program, which allows outstanding early-career faculty to engage students in groundbreaking research
Chancellor's Achievement Awards, scholarships for first-generation students
Unexpected urgent needs. Example: Ensuring needy students had laptops available to access online learning during COVID-19.
"As the parent of a recent graduate myself, I very much appreciate how Family Fellows strive to enhance learning and post-graduate success for all our students. I value their support and their insights. Family Fellows help us achieve greater things at UC Davis each and every year."

- Chancellor Gary S. May
Parent Giving at UC Davis
Join us!
When you become a Family Fellow by giving $5,000 or more annually to programs you care about, you join a select group of dedicated UC Davis parents, grandparents and other family members. You'll have the opportunity to participate in a number of free programs and events that offer camaraderie with your peers and special insight and interaction with faculty and campus leaders. These may include:
"The collective generosity of Aggie Parents like us makes a huge difference in our students' lives every day. As an Aggie alum, I invite you to join the Family Fellows program so we can all help prepare our students for a lifetime of success after graduation."

- Darrick Lam '87
Aggie Parent and Founding Chair of Family Fellows
Exclusive behind-the-scenes tours and faculty talks showcasing university research and service
Chancellor's Colloquia and Convocation
Access to special events, coffee chats and other engagement opportunities with university leaders throughout the year (in person and online)
Special communications from our Chancellor and the UC Davis Foundation
When you join Family Fellows, you also become a Meyer's Fellow-level member of the Davis Chancellor's Club, the university's oldest donor recognition society. This group also enjoys a special relationship with university leadership and are invited to participate in a number of campus traditions and events.
Give to what you care about
Inspiring examples of Family Fellows giving include:
Scholarships for summer research at the Bodega Marine Laboratory (Chan-Moore Family)
Provision of "smart pens" at the Student Disability Center to assist students with dyslexia/dysgraphia (Rosenberg Family)
Lecture series featuring world-renowned leaders from the design industry (Alberini Family)
Support for our Big Ideas, which harness the full power of UC Davis across disciplines to address the greatest challenges of our time. All Big Ideas involve student research and other forms of student engagement. (Numerous Family Fellows)
"I am excited to support Aggie Launch, a UC Davis Big Idea. It's an incredible resource for our students to tap into as they look for opportunities while at UC Davis and after graduation. I am so impressed with the leadership team and the guidance they are able to provide across disciplines. Through Aggie Launch, UC Davis is offering students the kind of personal attention you find in a much smaller school."

- Family Fellow Mardi Dier
Ways to give
In addition to donating online, by mail or by phone, you may give in the following ways:
Monthly Giving—At give.ucdavis.edu, you can set up a secure monthly credit card donation.
Company Match—Many employers will match your donations to UC Davis.
Pledges—Promise a gift now and make payments over time.
Gifts of Securities—These include stocks, bonds and mutual funds.
Planned Gifts—Remember UC Davis in your estate.
To join contact Cari DuBois-Wright, Associate Director of Development, Parent Giving at (530) 754-0768 or caduboiswright@ucdavis.edu.
Past Family Fellows Events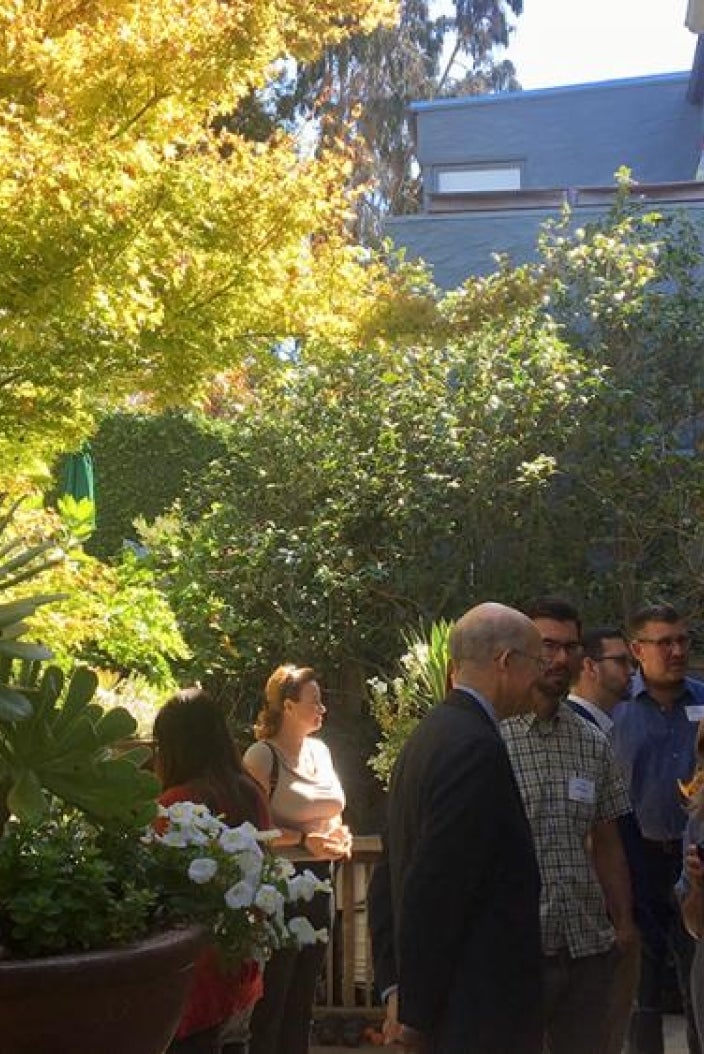 New parents reception in Berkeley at the home of Margaret Simpson and Douglas Booth, 2018.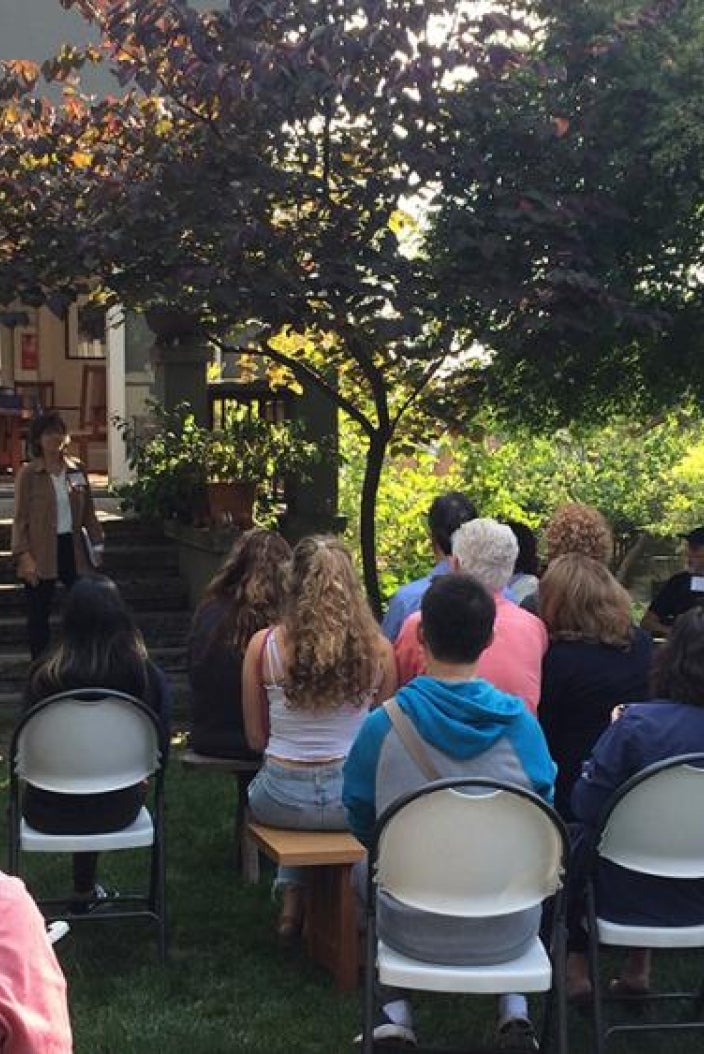 New parents reception at the home of Margaret Simpson and Douglas Booth, 2017. Featured speaker is Marcie Kirk-Holland, director of the Internship & Career Center.
New parents reception in Hillsborough at the home of KC and Al Vincelette (speaking), 2015.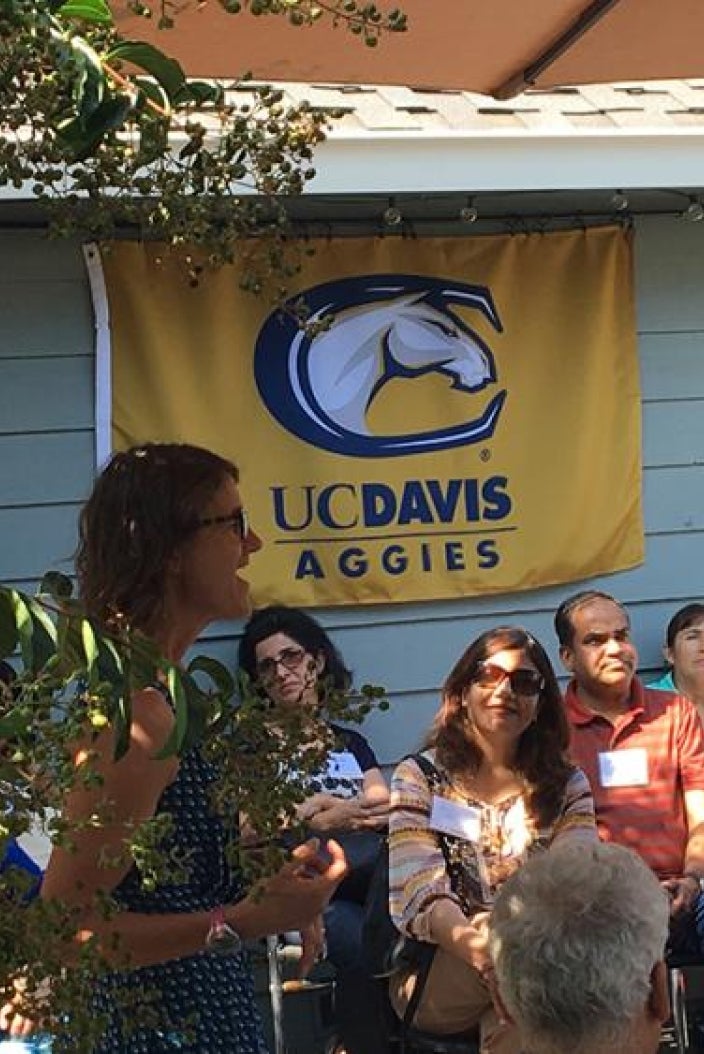 New parents reception in San Jose at the homes of Carol Stephenson (speaking) and Rich Brashears, 2017.