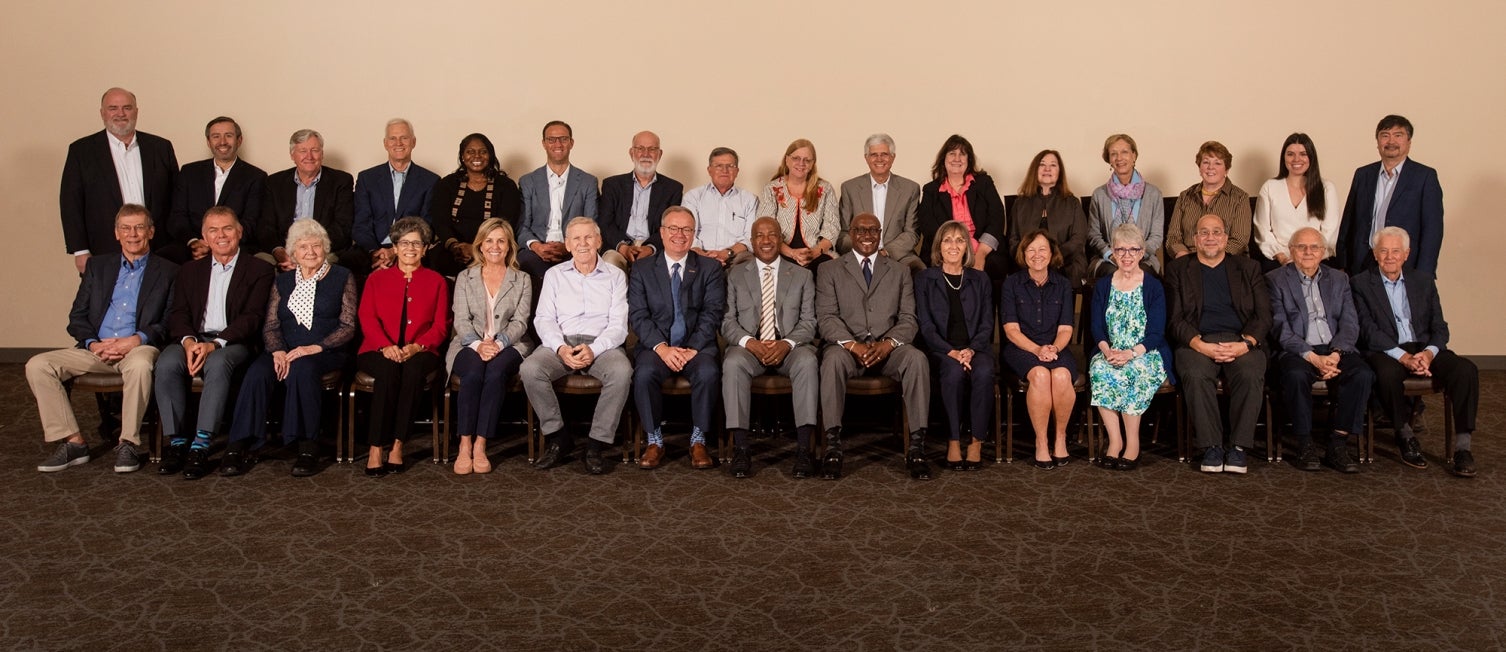 The UC Davis Foundation is governed by a volunteer Board of Executive Trustees, made up of UC Davis supporters who are distinguished leaders in their fields. Through their dedicated volunteerism, members of the Board help increase philanthropic support for UC Davis and steward private gifts to the university, furthering UC Davis' mission and its global impact. The Board works in concert with academic leaders and advancement staff to achieve the Foundation's goals.
The UC Davis Foundation Board:
Advances the mission of UC Davis by promoting philanthropy
Oversees the investments and other business operations of the Foundation
Offers guidance and advice to university leaders in areas related to philanthropic support and public trust
Builds good will and widespread support for UC Davis by knowledgeably representing the university
The Board is made up of elected Executive Trustees, who have voting privileges; Trustees; ex-officio Trustees, who serve on the Board by virtue of their position at UC Davis; and advisors. Elected Trustees serve renewable three-year terms. 
2023-24 UC Davis Foundation Roster
As of July 2023
Executive Trustees
Chair:  Cecelia Sullivan '83
Vice Chair:  Deborah Neff '76
Immediate Past Chair:  Darryl Goss '83
Audit Committee Chair: Patrick Sherwood '87
Audit Committee Vice Chair:  David Hultman '84
Global Campaign Leadership Council Chair:  Susan Mayer '80
Global Campaign Leadership Council Vice Chair:  Michael Hurlston '88, MBA '90, MS '91
Finance and Investment Committee Chair:  Jesús Argüelles '02
Finance and Investment Committee Vice Chair:  Lou Fernandes '99
Nominating and Governance Committee Chair:   Pam Fair '80
Nominating and Governance Committee Vice Chair:  Paul Sallaberry '79
Stewardship Committee Chair:  Roger Halualani '89, MBA '91
Stewardship Committee Vice Chair:  Andrea Alberini
Trustees
Andrea Alberini
Independent Primary/Secondary Education Professional
John Amos '90
Chief Executive Officer
Vivus Inc.

Jesús Argüelles '02
Director of Investments
The James Irvine Foundation

Javier Avitia '83
Retired Executive VP Business & Legal Affairs
CBS Global Distribution Group

Kevin Bacon '72
Retired Vice President/Partner
IBM Business Consulting Services

Jacqueline Beckley '72
President, Owner & Founder
The Understanding & Insight Group LLC

Bardin Bengard '84
President
Bengard Ranch, Inc.

Andy Boone '96
President
Equip Sports Performance, Inc.

Caroline Cabias '72
Retired State of CA Career Executive

Davis Campbell, M.A. '68
Retired

Joseph Castagnola '98
Board Member
UC Davis Athletics

Jeffrey Child '82
Financial Advisor
Oshman Family Office

Charles Cooper '76, M.D.
Pediatric Ophthalmologist
Sutter Health

Christine Cote-Wissmann '78
Senior Vice President, Family Wealth Director, Financial Advisor
Morgan Stanley

Mark Couchman '80
Chief Executive Officer
Silverado Investment Management Co.

Chrysanthy Demos
President & Founder
WellCent, Inc.

Pam Fair '80
Retired Vice President
San Diego Gas & Electric

Lou Fernandes '99
Chief Investment Officer
Museum of Modern Art

Karl Gerdes M.S. '73, Ph.D. '74
Retired Engineer/Consultant

Michael Gilson '73
Director of Business Development
EicOsis, LLC

Darryl Goss '83
Acquisition and Investment Consultant

Lois Goss '85
Owner
G&G Destinations

Jackson R. Gualco '78
CEO and President
The Gualco Group, Inc.

Roger Halualani '89, MBA '91
Founder and Principal
Epiphany Partners Inc.

Maud Hinchee '75, Ph.D. '81
Chief Science Officer
Agricen Sciences

David Hultman '84
Senior Client Executive and Relationship Manager
Bank of the West

Michael Hurlston '88, MBA '90, M.S. '91
President and Chief Executive Officer
Synaptics

Rudy Kadlub '71, CRED '72
Owner and CEO
Costa Pacific Communities

Darrick Lam '87
Non-profit professional

Eivind Lange, III '77
President
Paradigm Sports

David Loury, '79, Ph.D. '84
Retired, Executive Vice President of Toxicology
Pharmacyclics, Inc.

Mark Lyon '78
Founder and Winemaker
Eco Terreno Vineyards and Wines

Susan Mayer '80
Marketing Executive 
Mountain Construction, Inc.

Stephen Meisel
Retired 
PwC

Marcia Messmer
Founder and Owner
Guinea Pig Calendar Company

Deborah Neff '76
Chief Executive Officer
Evanostics

Thomas Pong, MD '78
Retired Cardiologist
Kaiser Permanente

DeWayne Quinn '92
Director
Apple Computer, Inc.

Sandra Reed, MD '85
Retired
US Navy

Edwin Rizo '82
President
Rizo Lopez Foods, Inc.

Paul Sallaberry '79
Venture Partner
Icon Ventures

Patrick Sherwood '87
EVP / US Region Head of Global Financial Institutions
Wells Fargo Bank

Naoki Shimazaki '80
Partner
GCA Law Partners LLP

Gary Solis, Ph.D., J.D. '71
Retired U.S. Marine
Adjunct Professor of Law

Debby Stegura '79
Former Attorney at Law

Cecelia Sullivan '83
Founder/Investor
CLS Consultants

Robert Tobias '86
Chief Executive Officer and President
HDMI LA
Michael Van Horne, JD '75
Attorney at Law

Marc Verissimo '78
Retired Chief Risk Officer
Silicon Valley Bank
Advisors 
Mark Bavoso '83
Managing Director
Morgan Stanley & Co.
Bert Feuss '84
Senior Advisor
Community Capital Advisors, LLC
Glenys M.Z. Kaye
Retired Accountant

Parker A. Lee '76
Global Managing Partner
Territory Global

James Malley '86
Managing Director
BTIG

Robert E. Murphy '63
Attorney Of-Counsel & Sr. Shareholder
Kronick Moskovitz Tiedemann & Girard