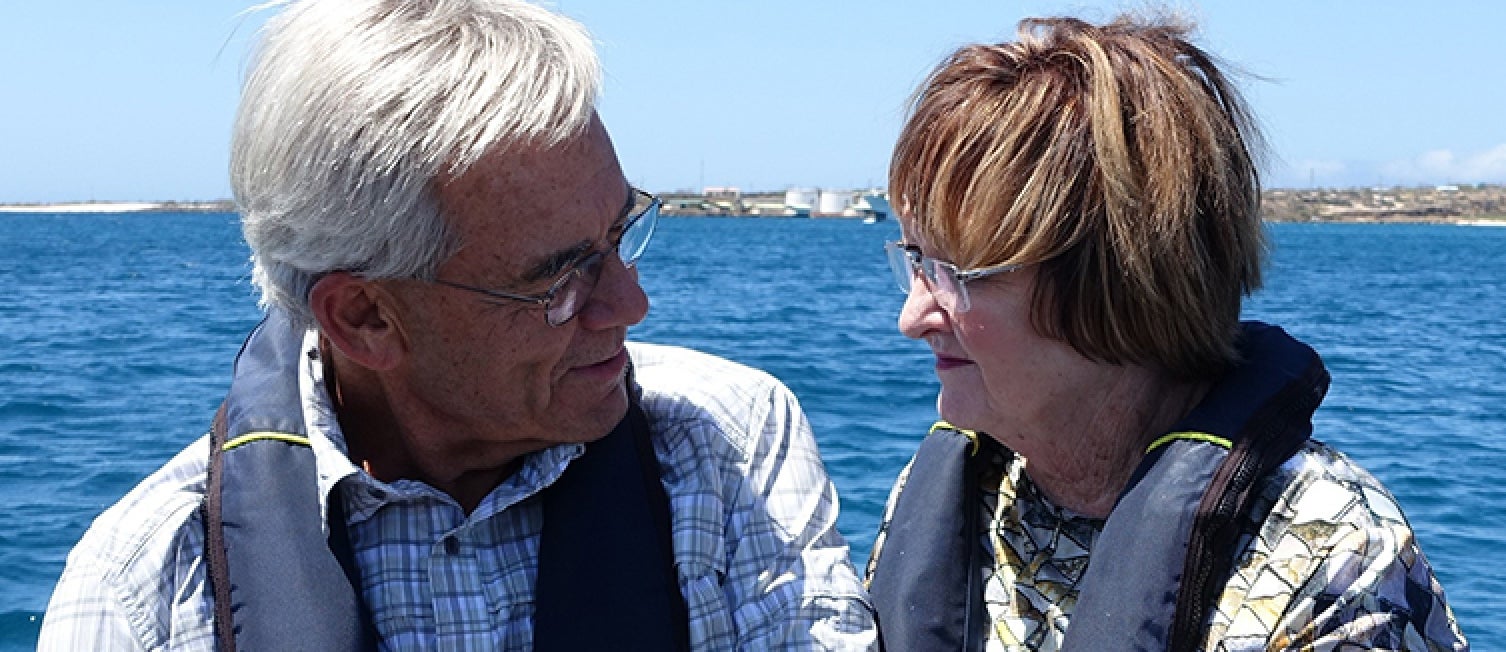 Couple invest in CA&ES and the future
$1M gift for student support, environmental scholarships
January 25, 2022—Linda and Bill Sullivan have invested $1 million in UC Davis students to advance the donors' belief that all scholars deserve an enriching college experience without the burden of high levels of debt.
The couple's gift to the College of Agricultural and Environmental Sciences will support the college's annual fund — which Dean Helene Dillard directs to areas of highest need — and their existing William and Linda Sullivan Environmental Sciences Scholarship Fund.
"It's our passion to help where we can to ensure that every student has the ability to live up to their potential," said Bill Sullivan, retired CEO of Agilent Technologies, a UC Davis alumnus and longtime donor to the university. "While I've seen UC Davis thrive and even overcome the pandemic, there's always a need for student scholarships."
He graduated with a bachelor's degree in environmental planning and management in 1972. He has served on several UC Davis boards, including the Chancellor's Board of Advisors.
The right priority
He said he respects Dillard for directing unrestricted funds largely toward student support. The fund has been used to cover expenses like transportation for field trips and to support students who cannot afford off-campus experiences such as studying at the Bodega Marine Laboratory.
"This gift will continue to allow us to support students in a variety of ways, including experiential learning opportunities, summer programming, mental health services and scholarships," Dillard said, "It's a terrific resource for our students and research needs, and we thank Bill and Linda for their generosity."
Since her appointment as dean in 2014, Dillard has built upon the strengths of the college in research, teaching, extension and outreach, and maintained strong relationships with the broad range of college stakeholders and alumni, including the Sullivans.
"We firmly believe in the dean's unrestricted fund because we have the highest confidence that leadership will best utilize our investments," Bill Sullivan said. "The college has a special place in my heart and if we can help on the academic scholarship side and allow a richer experience in the college overall, then we will."
The Sullivans' gift is part of UC Davis' $2 billion fundraising campaign, Expect Greater: From UC Davis, For the World, the largest philanthropic endeavor in the university's history. Together, donors and UC Davis are advancing work to prepare future leaders, sustain healthier communities, and bring innovative solutions to today's most urgent challenges.
Staying connected
Although it has been years since Bill Sullivan regularly traversed the campus as a student, he stays up to date with UC Davis through a variety of connections.
"I still have a pretty large circle of UC Davis graduate friends who keep in touch," he said. "In fact, we get together once a year to play golf and exchange embellished stories about our time on campus."
In addition to his service on the Chancellor's Board of Advisors, Bill Sullivan was a member of the cabinet for the university's first comprehensive fundraising campaign. Outside UC Davis, he is a board member of Catholic Charities of Santa Clara and Upwell, a nonprofit organization dedicated to protecting endangered sea turtles, and has served on the advisory boards for the Georgia Institute of Technology College of Engineering and the Johns Hopkins Carey Business School, and the Children's Discovery Museum of San Jose.
"It was a real honor to be on the chancellor's advisory board and to learn about the direction Davis was going," Bill Sullivan said. "It turns out that I knew Chancellor May from serving on the Georgia Tech engineering board so it was really great to see him at Davis — it's a small world."
Being active in community and education programs has influenced the Sullivans to focus their support on students.
They established their scholarship fund for environmental science students in 2011 and are always delighted to receive thank-you letters from recipients. Bill Sullivan said he also enjoys connecting with students in-person as a guest speaker on campus.
"I was invited to speak in one of the classes I took over 50 years ago so that was a lot of fun," he said. "When you have a relationship with such a fine institution like UC Davis, the joy is just knowing you're helping out."
Reflecting on UC Davis
The Sullivans' generosity stems from their successful careers. Bill Sullivan had a 40-year career with Hewlett-Packard Co. and its spinoff Agilent Technologies. Linda Sullivan worked for IBM before following her dream to open a French-inspired home decor boutique. Both now retired, they love spending time with their grandchildren.
Bill Sullivan said he credits UC Davis for his critical thinking skills and love of learning: "The breadth of exposure I had has helped me turn Agilent Technologies, which was a test and measurement powerhouse, into one of the largest life science and chemical analysis companies in the world."
He hired numerous Aggies during his career. "UC Davis was one of the top universities that we sourced talent from," he said. "I often joke that I was lucky I graduated in the early '70s because I'm not sure that HP would have hired me now. The students graduating are so smart and so bright, UC Davis is highly represented in Agilent Technologies across multiple disciplines.