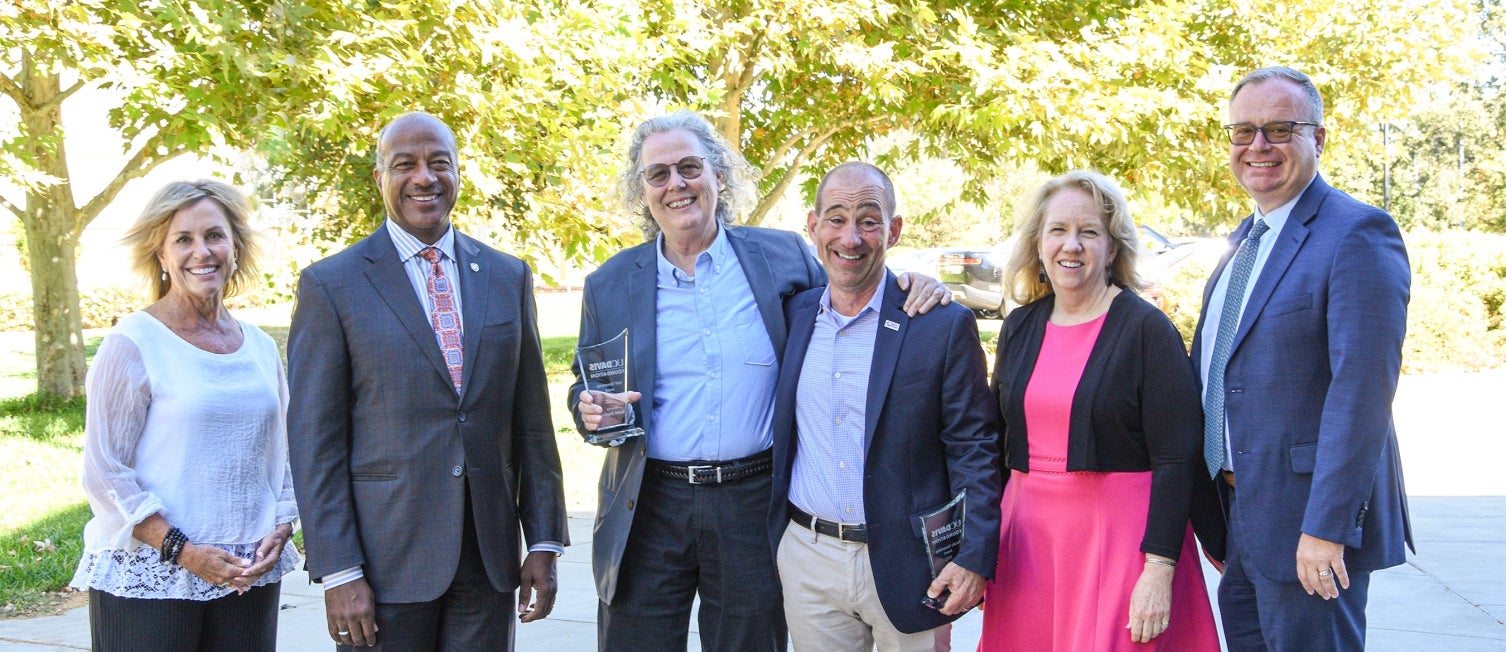 Faculty and staff recognized for efforts to grow philanthropy
UC Davis recently honored three individuals for their outstanding efforts to steward donors and cultivate a culture of philanthropy within their departments and across the university.
The Office of Development and Alumni Relations and the UC Davis Foundation presented the Faculty and Staff Stewardship Awards at a ceremony on Oct. 12. The 2023 recipients are:
Faculty Stewardship — Joe DiNunzio, executive director, Mike and Renee Child Institute for Innovation and Entrepreneurship
Staff Stewardship — Susie Owens, production manager, Department of Theatre and Dance 
Lifetime Achievement — Brant Allen, retired field lab director and boat captain, Tahoe Environmental Research Center
"No one champions UC Davis as effectively as our dedicated faculty and staff," said Shaun B. Keister, vice chancellor for Development and Alumni Relations and UC Davis Foundation president. "These honorees are incredible relationship builders, advancing UC Davis' mission by engaging donors through substantive opportunities to partner with the university. We are deeply grateful for their dedication and support."
Chancellor Gary S. May and UC Davis Foundation Chair Cecelia Sullivan '83 also participated in the awards presentation.
Faculty Award
Throughout his tenure at UC Davis, Joe DiNunzio has been an impactful and powerful fundraiser for the university.
DiNunzio, who serves as executive director at the Mike and Renee Child Institute for Innovation and Entrepreneurship, or CIIE, excels at cultivating connections with current and prospective donors by keeping them engaged at every turn.
His warm, attentive and gracious approach has encouraged generous gifts to UC Davis, including CIIE's naming gift from Mike and Renee Child.
DiNunzio's outstanding stewardship efforts are evident through his engagement of principal gift donors like the Childs and UC Davis Health donor Dale Carlsen, who now serves as an advisory member and volunteer at CIIE.
He often finds tangible ways for donors to see and feel the impacts of their giving by tapping into opportunities to connect donors with students. For example, he invites philanthropists to serve as mentors, speakers and teachers, creating rewarding experiences for student mentees and the donors who participate.
DiNunzio also writes personal thank you notes to any donor who gives to CIIE, and frequently visits or calls donors to thank them for their support.
His leadership and commitment to philanthropy have raised the purview of the CIIE and will continue to elevate UC Davis into the future.
Staff Award
Susie Owens' gracious approach to building relationships with current and prospective donors has inspired them to connect with the university through philanthropy. 
A self-described "behind the scenes" person, Owens has been the production manager for the Department of Theatre and Dance for the past decade. She often goes above and beyond to create memorable experiences for people who are considering gifts to UC Davis.
In fact, Owens spends hours giving personal tours of the department to potential donors, and she is always excited to meet with past donors to show them how impactful and timely their gifts were.
Owens' personal touch has led to many gifts, including from notable alumna Janet "Jan" Elsea '64, M.A. '66, the first female M.F.A. graduate of the department. After their initial encounter, Elsea and Owens became friends, which led to establishing the Janet Elsea Theater Workshop Fund.
Owens' thoughtfulness and attention to detail also influenced in a $75,000 endowment gift from John Gardner Trimble to establish a memorial scholarship in honor of his late wife, Jennifer Leavitt '97, who studied theater and dance at UC Davis.
Regardless of whether the donors she engages with make a major gift, Owens treats each one as though they had. She is extremely professional, engaging and accessible, and her willingness to go above and beyond has bolstered fundraising efforts over the years.
Lifetime Achievement Award
Brant Allen embraced many roles during his 34 years at the Tahoe Environmental Research Center — boat captain, field lab manager, research diver — and through it all he developed a knowledge and passion that energized donors to support UC Davis' efforts to preserve the jewel of the Sierra.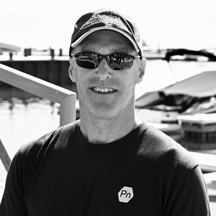 "I learned a lot from those interactions, and it enriched my life throughout my entire career," said Allen, who retired from the university in June 2023.
The Tahoe Environmental Research Center, or TERC, a multidisciplinary research facility located on the north shore of the lake, was built in 2006 through philanthropic support, which Allen played a key role in securing.
He often spent weekends out on the lake engaging with current and prospective donors so they could see firsthand the pressing issues that needed tackling to preserve this essential natural resource.
Perhaps the most powerful example of how his stewardship benefited the university lies in his efforts to address the algal growth that was plaguing Tahoe's beaches. Allen was able to fully engage a donor in this research, with the donor flying his own helicopter to do aerial photographic surveys of Tahoe's beaches.
Allen's team used that imagery to collect data around the lake, which led to increased support from the donor and the establishment of an independent organization, Save Tahoe Beaches, aimed at motivating philanthropic support for TERC's research.
Allen embraced countless opportunities over the years to cultivate a culture of philanthropy at Lake Tahoe, which he described as one of the most fulfilling and enjoyable parts of his career at UC Davis.