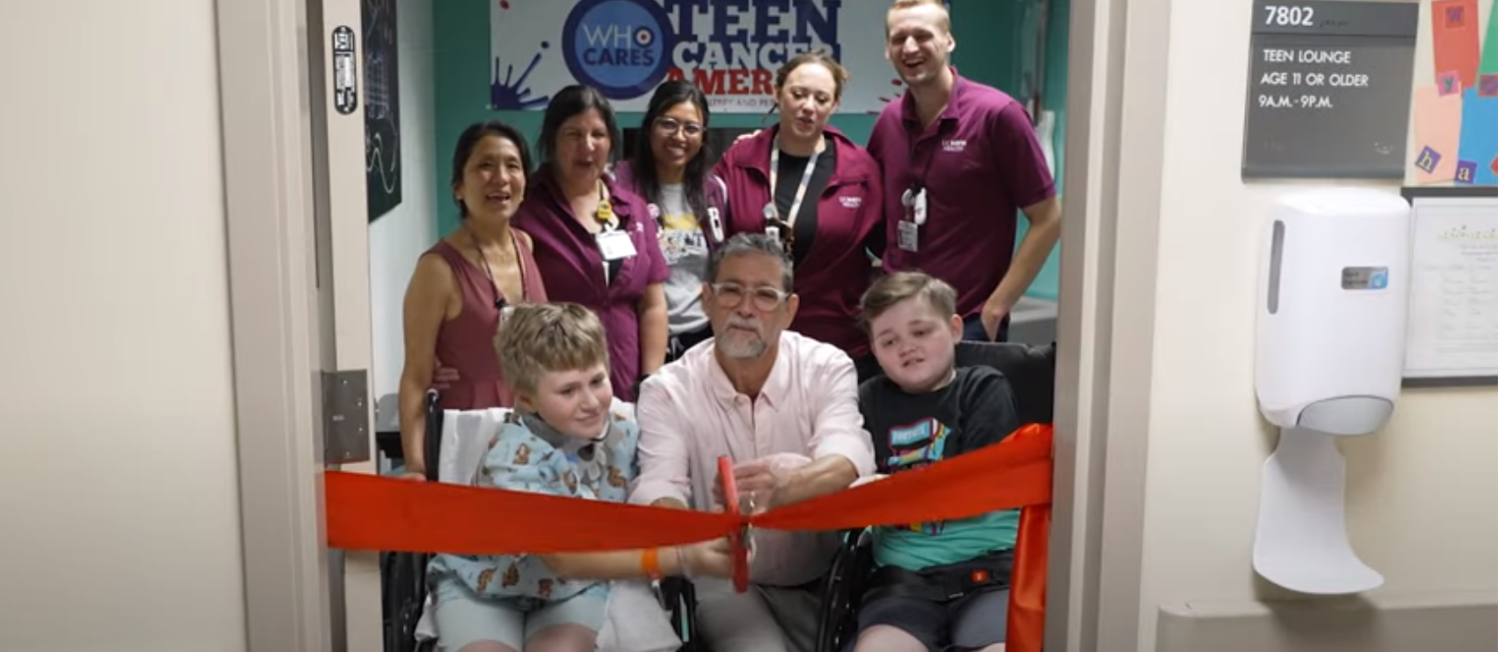 New teen patient lounge brings healing power of fun
Rock band The Who and its Teen Cancer America organization help give hospitalized teenagers a break from medical care
Thanks to The Who and the band's Teen Cancer America organization, UC Davis Health now has a teen lounge to help young patients recover from cancer or any other condition that lands them in UC Davis Children's Hospital.
The opening of the lounge was June 30. Chief of the Division of Pediatric Hematology-Oncology Marcio Malogolowkin received help from two patients, 12-year-old Noah Chapman and 11-year-old Bentley Hansen, as he cut the ribbon to a room filled with colorful art and activities.
The teen lounge has a PlayStation 5 videogaming console. Chapman and Hansen sat together to check it out and played a Spiderman game.
"I just think it is a really cool place to come to, especially when you are healing," Hansen said.
There's also an electronic Infinity Game Table, a book library, movie collection, art corner, and a computer for homework or connecting with friends and family.
"This is about the teenagers," Malogolowkin said. "It is to support them through their health care journey. We cannot forget they are children and adolescents and that they need to be stimulated and feel connected."
One parent attending the opening with his hospitalized son Noah said that he thinks the teen lounge is great.
"Here, he can be himself, have fun, play games and hang out with other teenagers," Robert Chapman said. "It gives him a place to come and get away from his hospital bed."
Hospitalized young patients 11–18 years of age are eligible to use the room, with their doctor's okay. Malogolowkin said when young patients feel good, they want to look forward to the future. The teen lounge offers distractions and keeps teenagers moving and looking forward to their bright futures.
The Who and Teen Cancer America
The Who is considered one of the most influential rock bands of the 20th century, getting their start in England in the mid-1960s and going on to sell more than 100 million records worldwide. Long-time members of the band, Roger Daltrey and Peter Townshend, founded Teen Cancer America. Now many celebrities support the non-profit as it works to build teen-friendly environments at hospitals across the U.S.
An autographed electric guitar, signed by Daltrey and Townshend, is displayed in the new teen lounge.
Malogolowkin met the executive director of Teen Cancer America several years ago and now UC Davis Comprehensive Cancer Center's Adolescent and Young Adult (AYA) cancer care program is benefiting from a $280,000 grant. The money not only funded the teen lounge but is also being used to expand the program. As an example, AYA supportive oncology staff have been hired to provide a unique environment and innovative resources to help young cancer patients heal and get on with their lives.
UC Davis Comprehensive Cancer Center
UC Davis Comprehensive Cancer Center is the only National Cancer Institute-designated center serving the Central Valley and inland Northern California, a region of more than 6 million people. Its specialists provide compassionate, comprehensive care for more than 100,000 adults and children every year and access to more than 200 active clinical trials at any given time. Its innovative research program engages more than 240 scientists at UC Davis who work collaboratively to advance discovery of new tools to diagnose and treat cancer. Patients have access to leading-edge care, including immunotherapy and other targeted treatments. Its Office of Community Outreach and Engagement addresses disparities in cancer outcomes across diverse populations, and the cancer center provides comprehensive education and workforce development programs for the next generation of clinicians and scientists. For more information, visit cancer.ucdavis.edu.