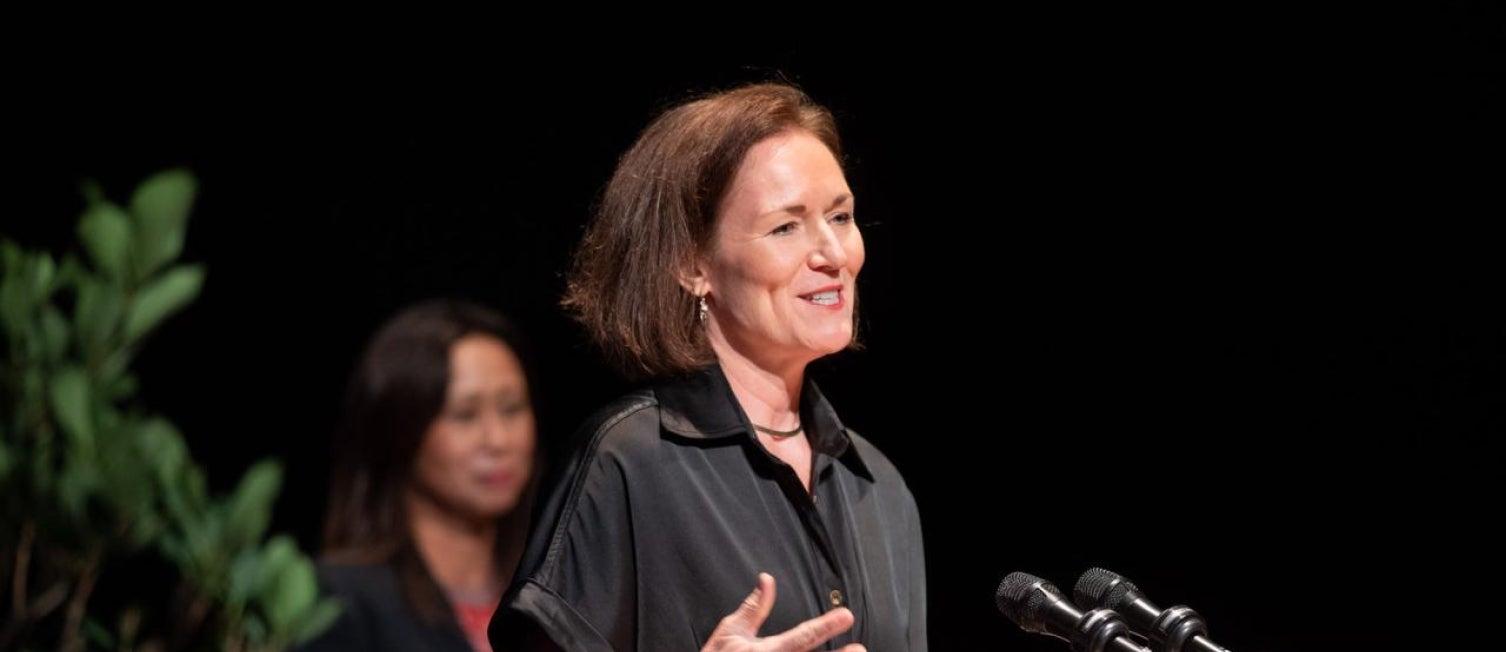 Professor Leigh Ann Simmons wins 1st Women & Philanthropy impact award
Leigh Ann Simmons, professor and chair of the Department of Human Ecology, has won the inaugural Women & Philanthropy Impact Award at the University of California, Davis, in recognition of her work in mentorship and leadership, and efforts on behalf of women's health.
Simmons accepted the award onstage Sunday (Oct. 16) in front of more than 1,700 people who packed Jackson Hall at the Mondavi Center for the Performing Arts. The presentation was part of a Wisdom of Women symposium featuring bestselling author Glennon Doyle and distinguished UC Davis alumnae Tani Cantil-Sakauye '80, J.D. '84, Diane Bryant '85 and Adriana Gascoigne '00.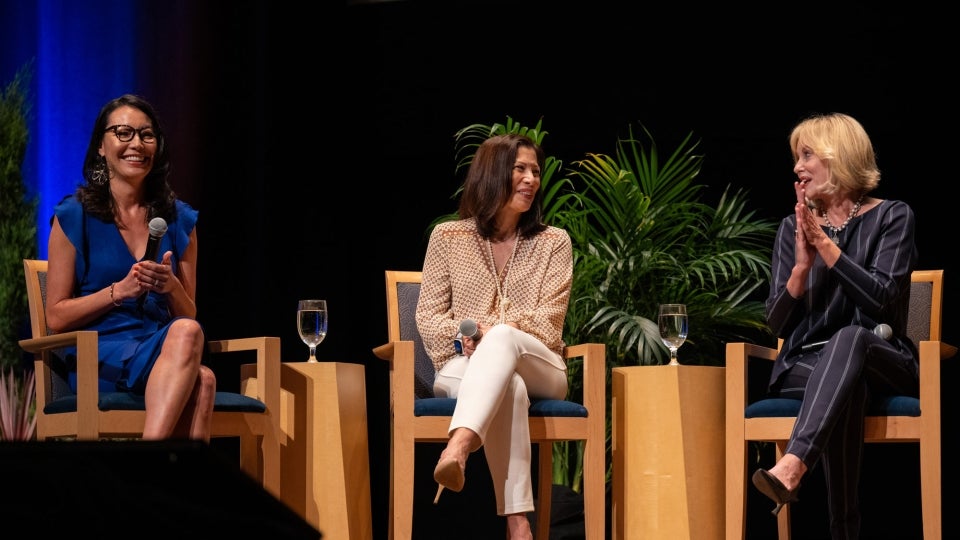 "We are thrilled to present Professor Simmons with the inaugural Impact Award," said LeShelle May, a member of the Women & Philanthropy Advisory Council. "Her contributions in her research and as a campus leader embody everything this award celebrates: uplifting women everywhere and inspiring the next generation of leaders locally and globally."
Women & Philanthropy established the award to recognize a UC Davis faculty or staff member for contributions to the advancement of women, along with being an exemplary leader and having a significant impact on local and global university communities. It comes with a donor-funded $25,000 prize to direct to the UC Davis fund of the winner's choice.
 

'Phenomenal honor'
Simmons has served as chair of human ecology since 2019, helping to unify the department's three subunits in a more equitable and transparent structure that provides faculty — particularly junior faculty and faculty of color — with opportunities to thrive.
"Winning the Impact Award is a phenomenal honor and it's an amazing recognition of the work that I do that happens behind the scenes," she said. "As the inaugural awardee, I hope to lay a foundation for others to aspire to these kinds of roles that are so important to elevate girls and women throughout the generations."
Simmons, who holds a Ph.D. in child and family development, is the faculty director of the Health Equity Across the Lifespan (HEAL) Lab, which focuses its research on promoting health equity by reducing disparities in chronic diseases among vulnerable and medically underserved populations. She is the co-director of the Perinatal Origins or Disparities (POD) Center, which aims to improve health outcomes for pregnant women and their infants.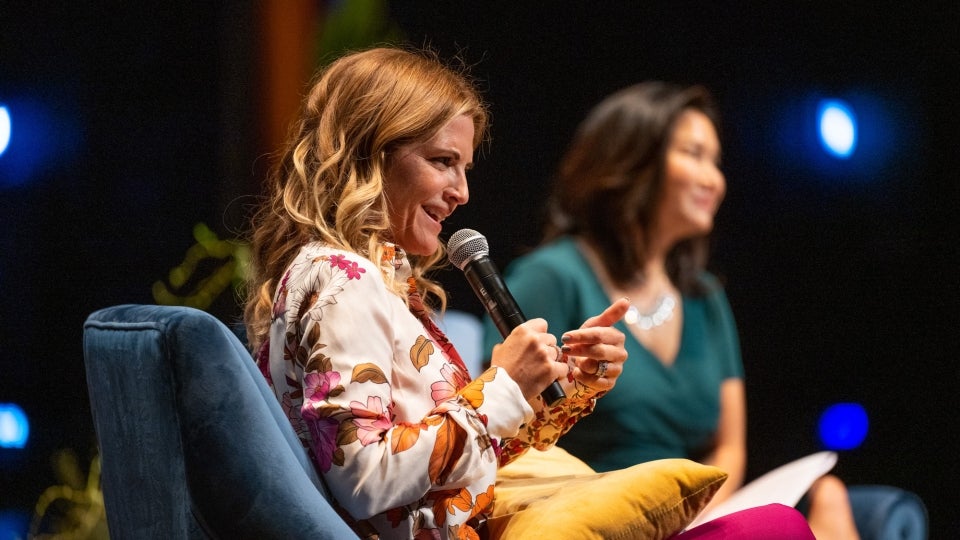 "Health is the foundation of everything we do in life," Simmons said. "When people do not have good mental or physical health, they're not able to achieve their highest potential, and that can create disparities across generations. It's really important we ensure that everyone has access to good health, and the goal of our lab is to make that possible for everyone."
Continuing impact
Simmons has directed the award's $25,000 to the Health Equity Fund at Student Health and Counseling Services.
The fund helps offset out-of-pocket medical expenses for students, assisting with costs such as transportation and medicine, and providing access to mental health care and learning disability assessments.
"The Health Equity Fund does great work helping students cover care that they might not otherwise be able to pay for," Simmons said.
"I see my gift as a way to support students to be the best scholars they can be because they are their healthiest selves."
The cause connects closely to her professional research on health access and equity. "Being unable to pay is one of the biggest barriers to why people don't get the care that they need," she said.
Empowering women
A key part of the Impact Award is recognizing leaders who help elevate others around them. Beyond her own accomplishments, Simmons serves as a mentor to many students, staff and faculty.
"Professor Simmons ensures her work and relationships are meaningful and contribute to positive outcomes that reduce barriers and promote health equity among the most vulnerable communities," said Jasmine Cuellar, community education specialist in the HEAL Lab.
"As a Latina first-generation Master of Public Health recent graduate, I am so grateful to have Dr. Simmons' guidance," Cuellar said. "She has been a great mentor and supporter by encouraging me to grow as a leader."
Simmons makes a point to support her mentees in and beyond the lab, ensuring they have the resources and confidence to succeed and grow in their fields.
Paige Smith '17, assistant clinical researcher in the lab, said: "I am constantly learning by her example as an exceptional leader who effortlessly advocates for, uplifts and amplifies those around her, especially those of historically underrepresented communities."