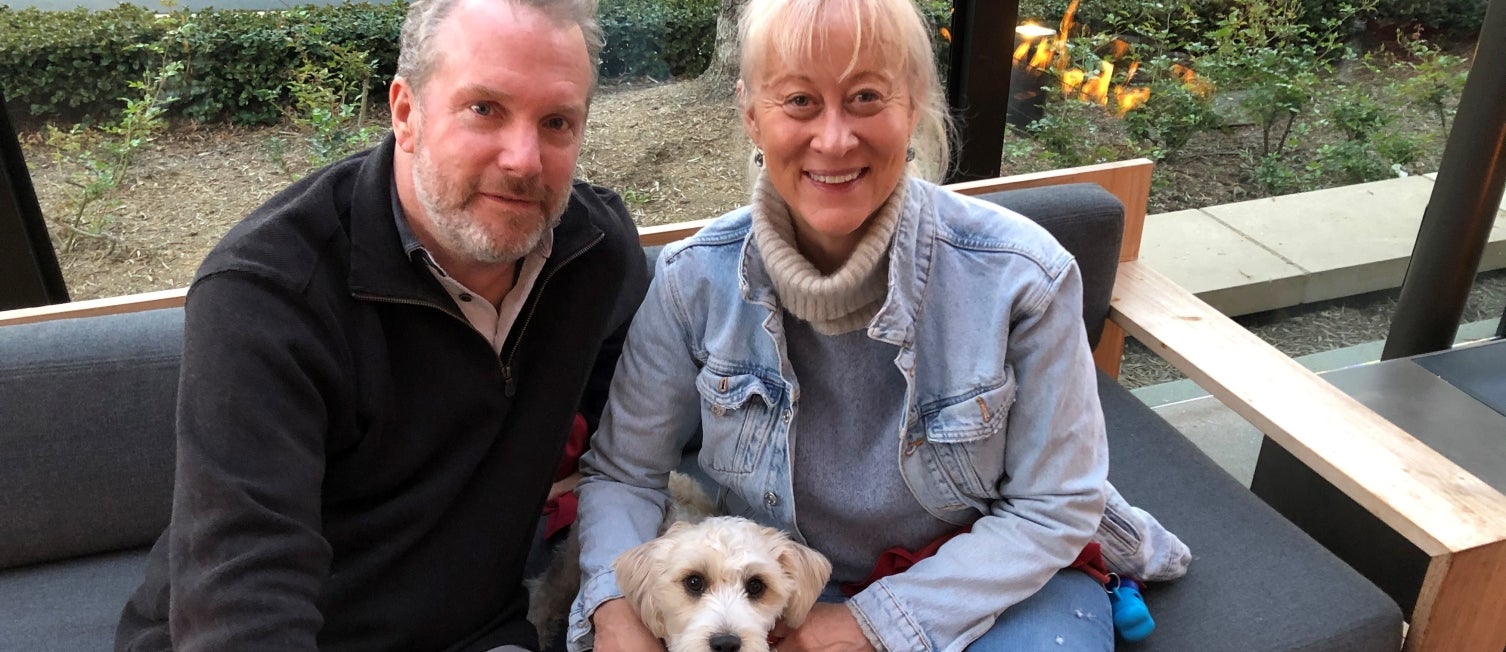 Saving pets' lives by paying the bill
Magazine survey winners direct prize money to veterinary compassionate care fund
"It's the idea of someone at the counter whose pet's life is in danger, but who can't pay for treatment," says Andrew Hadra. "That's why we give to compassionate care."
As the winners of this year's In Greater Focus magazine survey contest, Hadra and Isabelle Alessandra are designating the $10,000 prize money to compassionate care—funds that help offset costs for families to treat their sick or injured animals—at the UC Veterinary Medical Center, San Diego. 
Readers of the magazine had the opportunity to take an online survey and enter a contest to designate $10,000 of UC Davis Foundation funds to a UC Davis area of their choice. The couple, who live in Newport Beach, say they are glad to help bring the excellence of UC Davis veterinary care to Southern California pet owners in need.
"We chose the San Diego facility because we hope it can have a greater impact there over time," said Hadra. "The goal is to save someone's pet, and thereby honor how incredibly important the relationship between people and their pets is."
"Giving to UC Davis was a perfect fit. It combined our passion for animals with giving to an institution we can trust. We're committed to the mission that UC Davis serves and the passion of everybody there." — Andrew Hadra
In loving memory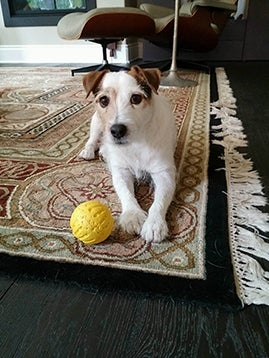 Hadra and Alessandra's first experience with UC Davis came in 2019 when their beloved dog Charlie, a 12-year-old Parson Russell Terrier, was diagnosed with an inoperable liver tumor.
They discovered a study then underway by UC Davis veterinary surgeon Dr. Bill Culp about the use of trans arterial chemoembolization (TACE) —the procedure used to treat liver tumors in humans—on canines. They brought Charlie north, as UC Davis is one of the few places in the country offering the experimental veterinary treatment.
Charlie's initial procedure was a success and his tumor began to die.
"The doctors told us, 'It's up to Charlie now," said Hadra.
Sadly, the malignant cells' death triggered an immune response that overwhelmed Charlie's body. A few weeks after the surgery, Hadra and Alessandra had to make the impossible decision to say goodbye.
"It's still hard for me to talk about it," said Hadra. "I quite literally never understood unconditional love until I had Charlie—he truly taught me how to love."
They credit UC Davis for providing a comforting experience during the difficult surgery process.
"Every single person we interacted with at the hospital, from the people who greeted us at the counter, the veterinarians and staff, cared a lot," he said. "We were sorry to be there, but at the same time glad to be there to give Charlie a chance to live."
In the years since, Hadra and Alessandra have established two estate gifts to benefit the School of Veterinary Medicine: one to support compassionate care funds in Davis, and another to support wildlife care and conservation at the Karen C. Drayer Wildlife Health Center.
"Giving to UC Davis was a perfect fit," said Hadra. "It combined our passion for animals with giving to an institution we can trust. We're committed to the mission that UC Davis serves and the passion of everybody there."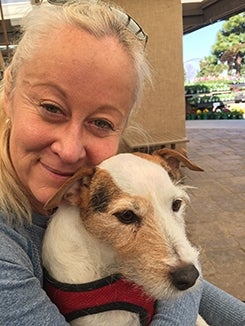 Alessandra is an abstract artist who shifted careers from CEO of her own consulting firm to follow her passion for painting. Hadra is in the homebuilding and land development industries; his love for dogs even inspired him to produce and direct a documentary film, "Away to Me," about the bond between people and their dogs.
Compassionate care funds were first established at the UC Davis veterinary hospital in 1990. These funds allow pet owners to apply for financial aid in situations where they cannot afford care for their pet, and assist with the costs of treating shelter, stray and wild animals brought to the hospital.
"A compassionate care fund greatly helps some of our patients with treatable diseases that can carry a good prognosis, or situations where a single treatment may be expensive but lifesaving." said Dr. Metzere Bierlein, Nephrology/Urology Fellow at the UC Veterinary Medical Center, San Diego.
Inspired by the kindness of strangers
Hadra and Alessandra's decision to give to compassionate care was significantly influenced by witnessing an amazing act of charity in the waiting room at their local emergency veterinarian during their final weeks with Charlie. 
A man had brought his critically ill dog in for emergency care. He could not, however, afford the costly surgery that would save the pet's life. Visibly and emotionally distraught and with no choice, he authorized the hospital to put his beloved companion down. 
At that moment, an elderly couple who were awaiting their own pet's appointment stepped up and offered to pay for the dog's surgery in full.
"All of us in the waiting room were stunned," said Hadra. "Everybody was crying at the couple's incredible act of kindness and what it meant to the dog's owner, who broke down sobbing, and most importantly what it meant for his dog."
In this moment Hadra and Alessandra became inspired to pay it forward. 
"The absolutely out-of-the-blue, extraordinarily generous and life-saving gift of funds from that couple touched us deeply," said Hadra. "It was so powerful, and so selfless, we decided we would like to be able to help people in the same way." 
When they won the In Greater Focus magazine survey contest, they had no doubt they wanted to continue building on their support for compassionate care—this time, for pet owners in Southern California.
"Ultimately our hope is that our story can inspire others to see that UC Davis is a great place to invest and give," said Hadra.