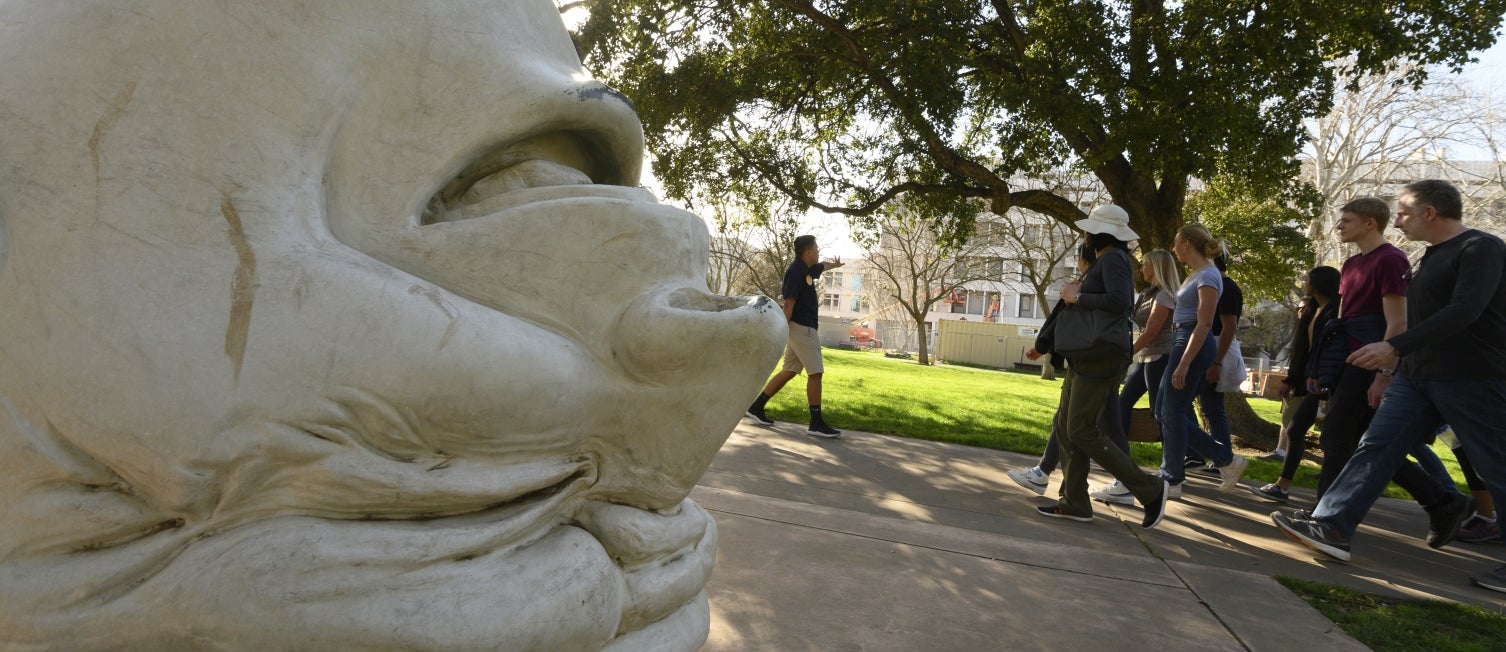 UC Davis has record fundraising year: $323 million
September 20, 2022 — Donors unlocked a new level of charitable giving to the University of California, Davis, in the last fiscal year, pushing the total past the $300 million mark for the first time in the university's history — and beating it by a wide margin.
Financials announced today (Sept. 20) show the university raised $323 million in 2021-22, in 58,556 gifts and pledges from 32,434 donors.
"Every year, I'm awestruck by the magnitude of our supporters' generosity," Chancellor Gary S. May said. "With these gifts, faculty, staff and students in every discipline will solve for today and prepare for tomorrow. Together, we continue to show the world that it should expect even greater from UC Davis."
With the 2021-22 data added in, the university reported a record number of donors, 115,116, have given more than $1.7 billion toward "Expect Greater: From UC Davis, for the World," the university's second comprehensive campaign, this one with a goal of raising $2 billion by 2024.
Donations in 2021-22 reached record highs in several areas on the Davis campus, including the College of Agricultural and Environmental Sciences, $103.8 million; Jan Shrem and Maria Manetti Shrem Museum of Art, $11 million; and Intercollegiate Athletics, $7.5 million. Top fundraisers overall included the School of Veterinary Medicine, $61.7 million; and UC Davis Health, $50 million.
Noteworthy gifts
Student and leadership success — Alumni and longtime donors Joelle '89 and Michael Hurlston '88, M.B.A. '90, M.S. '91 gave $8 million to establish the Davis campus's first endowed deanship (in the Graduate School of Management) and support three distinct undergraduate initiatives: the Diane Bryant Engineering Student Design Center in the College of Engineering; and the Internship and Career Center and the Aggie Compass Basic Needs Center, both part of the Division of Student Affairs.
Comprehensive wellness — Sacramento businessman Jim Anderson gave $5 million to the School of Medicine to found the Office of Wellness Education and establish the Jacquelyn S. Anderson Endowed Chair in Wellness in honor of his late wife, Jacquelyn "Jackie" Anderson. The Office of Wellness Education will offer resources to the UC Davis Health community and the people of Sacramento to help them prevent illness and lead longer, healthier lives.
Viticulture and enology innovation — A $4 million endowment was given anonymously to the Department of Viticulture and Enology, College of Agricultural and Environmental Sciences, to support cutting-edge technology and innovation in grape growing and winemaking. The endowment will assist faculty research, graduate students and educational opportunities by funding unique projects that use and further develop new data analytical tools, advanced technologies, techniques and equipment.
Sixth annual Give Day — Held on Picnic Day and the day before, this fundraiser brought in $4.2 million in 2021 — setting a new record for the third consecutive year. Many of the 6,800 donors responded to challenges, making contributions that unlocked prearranged pledges from other donors. So, for example, Give Day challenges generated more than $76,000 for the One Climate Institute and more than $37,000 in celebration of the Center for Neuroscience's 30th anniversary. The College of Engineering Dean's Executive Committee donated $37,500 to three challenges — LEADR/AvenueE, HackDavis and Student Startup Center, all benefiting students — that attracted 90 gifts totaling nearly $5,000.
Greater impact
Impact is homegrown at UC Davis: Employee giving is among the fastest-growing donation categories, with more than $3 million given in 2021-22 by campus and UC Davis Health faculty and staff — up from some $1.7 million the year prior. Much of the increase is due to nearly a dozen large gifts, together totaling more than $1 million.
Employee donors are joined by friends, supporters and alumni in partnering with the university on the "Expect Greater" campaign to confront life's most urgent challenges and build a fuller, healthier, more resilient future for California and the world.
"The acceleration of our campaign progress is all by virtue of supporters who share our goal to make the world a better place for everyone and everything," said Shaun Keister, vice chancellor of Development and Alumni Relations and president of the UC Davis Foundation. "We are grateful for everyone who continues to advance the university's mission."
##
Media contact
Betsy Towner Levine,
Development and Alumni Relations,
530-752-9693,
etlevine@ucdavis.edu